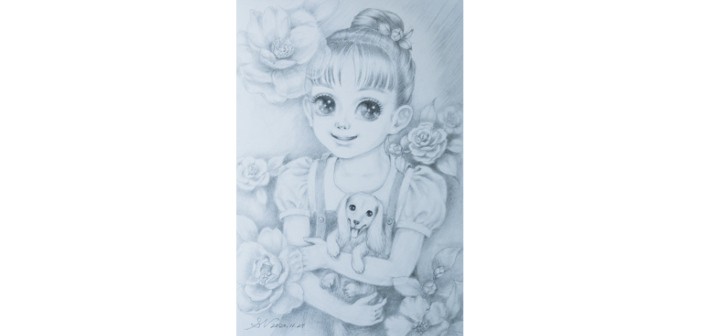 Heavenly Message by Mrs. Seiko Nakanishi 61
<Communicator: Seiko Nakanishi>
<Communication date: November 28>
It seems that "Hitomi" and "Momo" immersed in chanting the Gayatri Mantra and the Love Prayer incessantly for 28 days from October 30 to November 27 and they had been in the state of meditation during the time until a god wakened them last night. I'd like to tell you the story in a nutshell I heard from her.
(Question)
Although I called out to you for 28 days, you never answered me. What had you done during the time?
"I had continued to chant the Gayatri Mantra.
I had sometimes chanted the Love Mantra, too. Momo had also chanted with me."
(Question)
It must have been hard for you to chant for so many days, without a break.
Weren't you hungry?
"It wasn't hard for me at all.
I felt so good, and I thought I wanted to keep doing this.
It's because I was in the warm light.
And I'm always with Momo…
That's because I'm very happy if there is light."
(Question)
So If I let you do whatever you like, you must have kept chanting.
"I heard the voice of god.
The god complemented me by saying:
(Question)
Good for you!
So you have come back.
Where are you now?
"I stand beside my illustration.
(Question)
This morning, I just got back the illustration of you and Momo to me.
As I cannot spiritually see you, I'm afraid that everything is not alike you.
What's your opinion?
I'm sorry if the illustration is not like you.
"It resembles me very much!
So does it with Momo! She has long ears like this illustration.
We are good friends and so happy!"
(Question)
By the way, are you still a "spirit of camellia"?
"When I came down to the tree of camellia, I was a spirit of camellia but I am not so now. The god said so and according to the god, I have become a goddess now."
(Question)
Congratulation! Really congratulation! Good to hear it!
I hope that both of you will be good friends from now on, too and share happiness to everybody around you.
After having this conversation with me for a while, the two seemed to leave to a new realm.
I had been worried about her during a period when I could not contact with her. She, however, came to say goodbye to me. I was surprised at the result as I had imagined and at the same time this experience realized me anew tremendous effects of the "Gayatri mantra and Love mantra." I feel that since both of them had immeasurable devotion and trust to God, taintless purity, nonattachment and selfless love, they made such a great achievement. (Momo did not become a goddess, but Momo seems to dramatically have achieved evolution.)
Even in modern times polarized between light and darkness, we should never despair, never give up, instead, we should live together with "Gayatri Mantra" and "Love Mantra" as a companion in life. It is the best way to live. I feel like both Hitomi and Momo have taught me such encouragement to live the best life.