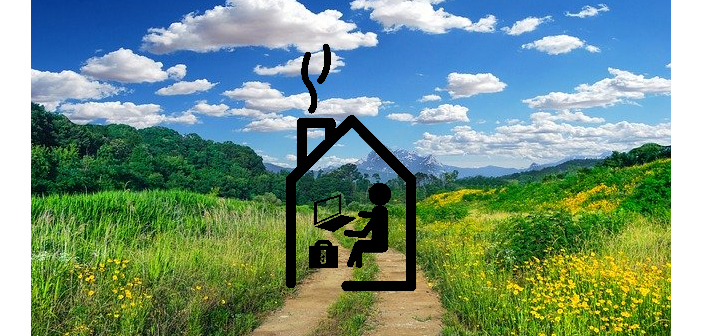 Note:
Shanti-phula has indicated some parts of the following text in black boldfaced type or in red letters.
English translation of an excerpt from a Japanese article:
Yahoo!JAPAN News
– June 28, 2020
Moneypost WEB
Sudden increase in consultation of relocation especially among young people

Is "Tokyo no longer necessary"?
<snip>
Well-known corporations such as Hitachi and NEC Global
have announced that they will
recommend telework even after the coronavirus pandemic is over
.
If it is possible for salaried workers of major companies to live in rural areas while working in urban cities,
a movement to relocate to rural areas will occur
among high-income people who want to raise children in the place with rich natural environment.
<snip>
Speaking of charms of rural areas, we can list up many merits which are difficult to get in Tokyo: "you have less anxiety of confection because of few "*Three Cs", "if you have parents or relatives you can rely on, it is easy to raise children and easy to work", "there are jobs by primary industry less affected by social changes" and "municipalities provide substantial support for child rearing" and so on.
<snip>
Things or experiences which are available only in Tokyo are quite few.
We should aim for a "distributed society" where we can enjoy merits of Tokyo and local city regardless of place we live in
.
<snip>
Can we change a difficult situation into an opportunity and use it a turning point to sustain our society?
<The rest is omitted>
*Note:
Three Cs: 1. Crowded spaces, 2. Crowded places, 3. Close-contact settings
English translation of an excerpt from a Japanese article:
Toyo Keizai Online
– January 12, 2020 by Kazuhide Ikedaki, journalist and Middle East Cuisine Researcher
A man in his forties "with living expenses of 8,000 yen" gains pleasure from rural

country

life
<snip>
A man worked for a newspaper delivery company in Tokyo for 20 years
and got a job in sales and labor management. He was never highly paid and
spent 150,000 to 200,000 yen monthly
to eat out, buy convenience store
bento
lunch box and have a drink with his friends and acquaintances.
<snip>
The man lives in a community surrounded by mountains, an hour's drive from Tsu City, Mie Prefecture.
<snip>
He spent a few months to find
a one million-yen one-story old house which was built 100 years ago
. The house was large enough for a single man without children.
It is sunny in the field because the house is on a hill. Radishes, potatoes, carrots, leafy vegetables such as lettuce and Chinese parsley grow well. Miso and seasoning is homemade. He buys foodstuff other than rice once a month.
<snip>
The fixed asset tax is several thousand yen per year because the assessed value of the house is low. The water bill is several hundred yen. The electric bills exceeded 2,000 yen in summer when the refrigerator was used, but it costs several hundred yen for November because it is unplugged now.
<snip>
He
feels that he can manage to survive by eking out a living out of savings he has until he reaches an age when he can receive pension
. <snip> If the time when he has to work comes, he would work about one or two days a week, he thinks.
<The rest is omitted>