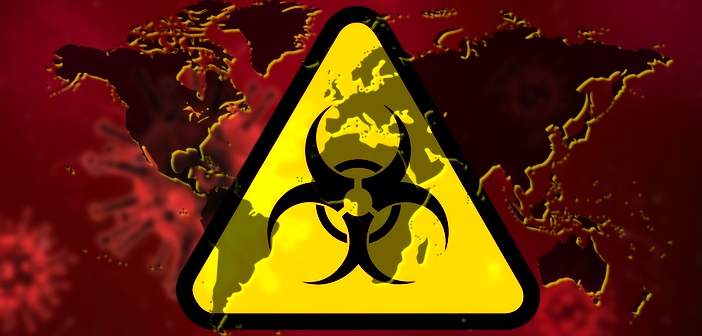 Note:
Shanti-phula has indicated some parts of the following text in black bold-faced type or in red letters.
U.S. Department of Defense: Within 30 Days, The Coronavirus Outbreak Will Likely Become A Pandemic
Source:
(Summary)
March2
<snip>
Department of Defense experts
are expecting the coronavirus to reach pandemic levels in 30 days.
<snip> A document from the Department of Defense showed that officials are preparing for the possibility that COVID-19 may have a significant global impact, as
President Donald Trump assured
the public
his administration was properly handling the new coronavirus, by
putting
vice president Mike Pence in charge of handling the outbreak
.
<snip>
Dr. Nancy Messonnier, the CDC's director of the
Center for the National Center for Immunization and Respiratory Diseases
, said <snip> "It's not so much a question of if this will happen anymore but rather more
a question of exactly when this will happen and how many people in this country will have severe illness.
"
@okabeeri9111
The most effective measures against coronavirus spread are prayer.
U.S. Vice President Pence and "coronavirus response team "pray"
@naoyafujiwara
Continuing closure of facilities inside U.S. bases in northern Italy.
@naoyafujiwara
Toilet paper and disinfectants sold out in commissaries on military bases across Japan.
English translation of an excerpt from a Japanese article:
johosokuhou.com
– March 3, 2020 –
The impact of over 100 infected people in Singapore! 30℃・80% humidity cannot stop the virus, which indicates that new coronavirus is likely to proliferate even with high temperature and high humidity
Infected cases confirmed in Singapore have exceeded 100
by March 2 and the total number of infected people increased to 106 with one Japanese included. In a neighboring country Malaysia, the total number of infected people has increased to 29 and the number of new coronavirus patients is increasing in a wide area of Southeast Asia.
At first the virus was said to be vulnerable to high temperature and high humidity like influenza, but the situation has significantly changed now.
Recently, Singapore has often the high temperature exceeding 30
℃
and high humidity exceeding 80%.
The climate there is just like around June and July in Japan.
The number of new coronavirus patients has rapidly increased
even in conditions of high temperature and high humidity
.
Singapore has incomparably stricter countermeasures against new coronavirus than Japan and has developed legislation system to monitor people who are likely to spread the infection. The Singapore government has engaged in supervising people, which might be considered to be violation of human rights in Japan. In spite of such strict measures, the viral infection has been spreading.
In other words, it is highly likely that the new coronavirus infection will continue to spread even in rainy season and summer
and we cannot expect the infection to end with time.
<snip>
Weather in Singapore
<snip>
First Japanese infected with new coronavirus in Singapore
https://www/tokyo-np.jp/s/article/2020030101002061.html
[Kuala Lumpur Kyodo] The Ministry of Health in Singapore announced on March 1 that a male Japanese (54) working in the country was confirmed to have been infected with the new coronavirus. This is the first time that the Japanese was confirmed to be infected with the virus

in Singapore

. The number of infected people in the country is

106 in total

.
The Ministry of Health in Singapore announced on March 1 that new four coronavirus patients have been confirmed, who shared the room with a Japanese woman confirmed to have been infected on February 27 and the number of infected people totaled 29.
Focus: All-out virus countermeasures in Singapore that no other countries cannot emulate
https://jp.reuters.com/artaaicle/china-health-singapore-idJPKBN20F11C


When a Chinese traveler was confirmed to have been infected for the first time at the end of January, a team of 140 government experts was set up

to interview patients, identify the patient's close contacts and isolate him.

According to Ministry of Health officials, they required airlines to submit the list of crew and passengers, followed up the movement of patients with security cameras and mobilized the police.

So far, 2,593 people have been isolated.


Professor *Chon Jalan (politics), National University of Singapore said: "It is acceptable here to trespass on our privacy. People are well-prepared to respond to such demand and it helps trace infection cases."

*Note: phonetic spelling
<The rest is omitted>