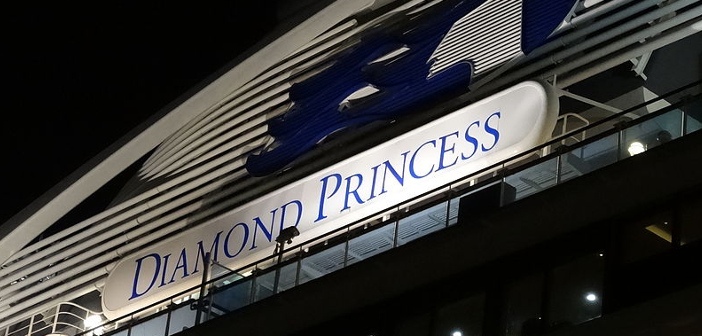 Is this 'manzai' or back chat? It is not so much demonstration of one shot joke 'being not foolish but insane' on the political level but as a farcical play itself.
Professor Kentaro Iwata pointed out in the video posted on YouTube, which has already been removed, that "the safety area and the dangerous area of Diamond Princess cruise ship have been messed up" and necessary measures to prevent the infectious disease have not been taken. Deputy Minister Gaku Hashimoto of MHLW, field supervisor, posted a photo showing the "zoning situation within the cruise ship" on official account. This helped him score a spectacular own goal.
It is too laughable and some people praise him as "whistle-blower." The first tweet by Mr. Tatsuki Uchida shown below describes the current situation for which the expression of "chaos" is suitable.
In the photo posted by Deputy Minister Hashimoto, taking into consideration aerosol infection, the fact of "no space partitioning between safety green zone and infection-threatening red zone is a problem, but according to Professor Iwata, the space in front of the photo is a more serious problem.
Please see the third to the last tweets, and you can understand it. This administration is really yabaior risky.
Note:
Shanti-phula has indicated some parts of the following text in black bold-faced type or in red letters.
English translation of an excerpt from a Japanese article:
BUZZAP!
– February 20, 2020 by Fukami
[New Coronavirus] Deputy Minister Gaku Hashimoto of MHLW who released the zoning situation of the cruise ship himself has spectacularly detonated himself, which serves as whistle-blowing
<snip>
The image in problem is here.
It is posted on official account by Deputy Minister Gaku Hashimoto of HMLC
(
Snapshot
).
"Incidentally, the actual place is like this. It is difficult to read written words in the image.
The left-hand is clean route and the right-hand unclean route."

<snip>

You can see the inner part of passage separated by rope. When seeing it in closeup, you can see a notice reading "clean route" in the left and a notice reading "unclean route" in the right. It is obvious at a glance that there is no partition as space between the safety green zone and the red zone subject to viral infection.
<snip>
Dr. Iwata's accusation video which is
greatly shocking in content
and provoked a fierce backlash. He was criticized by some people saying "What can an outsider who spent just two hours on the ship figure out in the world?"
Under the circumstances,
Deputy Minister Gaku Hashimoto who supervised at the site as "leader of MHLW" released a photo which can make anyone understand in a second that zoning within the cruise ship has not been implemented
. In terms of this, he has received a lot of praise as a "whistle-blower."
<The rest is omitted>