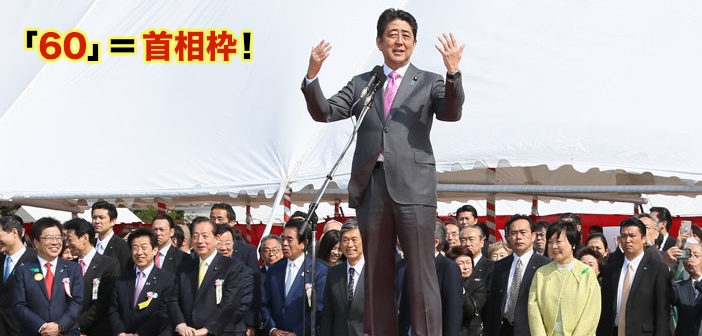 The Cabinet Office has finally revealed that thecategory number "60" was assigned for "the Prime Minister Office and the ruling party." Why did it take so much time to admit it?
On the same day JCP member Toru Miyamoto visited the National Archives of Japan and discovered the document of 2005 Cherry Blossom Viewing Party which showed the invitation category "60" was "quota for prime minister."
The government said that "quota for prime minister" was 1,000 but judging from the number of guests, it is predicted that nearly 5,000 people were invited. Please read the third tweet and you can understand the fact that the number of "people who are supposed to be invited" was too few while a large number of Abepyon's supporters were invited. It is an undoubted fact that the "cherry blossom viewing party" was 'used for election campaign.'
Lastly, I post a twitter with a video. We can see that Abepyon's "all remarks in a doorstep interview on November 15 were lies."
Can we let such a person go free? I fully understand that his deed "has now reached the level of execution in people's revolution," which is mentioned by the last tweet. However, first of all, let's think of achieving change of administration and then judging him based on law.
Note:
Shanti-phula has indicated some parts of the following text in black bold-faced type or in red letters.
English translation of an excerpt from a Japanese article
Kyodo Press
– December 23, 2019 –
Invitation card No. 60 "Quota for Prime Minister Office and Ruling Coalition Party"
Cabinet Office over Cherry Blossom Viewing Party
On 23, Lower House Cabinet Committee held the board meeting over the "Cherry Blossom Viewing Party" hosted by prime minister and heard the government's response to the question submitted by the opposition parties.
The Cabinet Office revealed that as a result of hearing from the person in charge, the category number "60" assigned to some invitation cards this year "was the quota for the prime minister office and the ruling party."
The number "60" was also assigned to a 2015 invitation card to former president of Japan Life, which was dubious about its fraudulent rental business operations, and the ruling parties had asked for hearing from the person in charge.
After the board meeting, head chairman Hideya Sugio of the Constitutional Democratic Party of Japan told reporters "we have moved half a step ahead but there are many unacceptable points" and revealed the idea that they would make a request of holding the board meeting again.