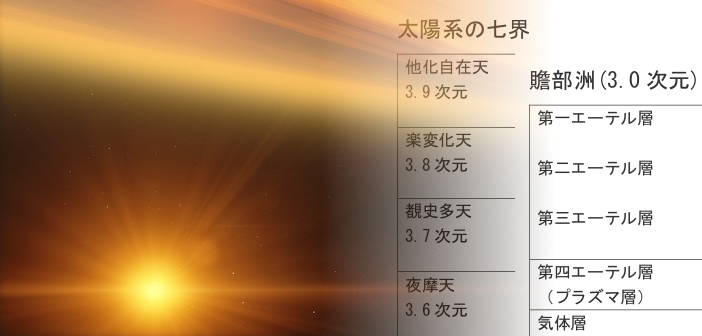 Theosophy has a concept of "seven planes of solar system." This is described in the graphic of "seven planes and 40 sub-planes of physical dimension in the universe" which is shown in an article dated January 22, 2016. You can understand this concept more easily by seeing the graphic and the "seven planes of solar system" table shown below.
In an article dated 17, I conveyed that humans have five bodies. The table below shows the dimensions where the five bodies exist. Each dimension between 3.0D and 3.9D is divided into seven layers. The causal body exists between the 1st and 4th layers of 3.5D and the mental body exists between the 4th and 7th layers of 3.5D.
The right side of the upper table you can see below shows the seven planes based on theosophical concept. Look at the part of physical plane (3.0D) which consists of 1st ether, 2nd ether, 3rd ether, 4th ether, and

gas/liquid/solid.

The lower table shows Senbushu (3.D), which consists of 1st to 4th etheric layers, gas layer, liquid layer and solid layer. Please note that 3.0D in the upper table and 3.0D in the lower table are different planes.
Average earthlings belong to the 1st System Earthly Deity 5th Level (which belong to 4D) shown in the table of System of Heavenly World 4. The location of the five bodies shown in Seven Planes of Solar System below is applicable only to the 1st System Earthly Deity 5th Level "people." "Divine spirits" and "deities" have bodies in different locations.
With spiritual progress, humans experience not only increased evolutionary level but rise in the place of Monad exist and higher place where they belong

.
Incidentally, where is the Great White Brotherhood which has already been destroyed applicable in the table of System of Heavenly World? As a matter of fact, they don't belong to anywhere in the table because they had been removed from the universe.
Regrettably, theosophy is considered to be the highest level of religious concepts on earth. For this reason, I have to give an explanation which is applicable to such level. All New Age religious concepts on earth come from the philosophy proposed by Helena Blavatsky. Cobra is also no exception.
However, their world view is too narrow to understand true cosmological structure. For example, check out in which dimension my plasma body exists. Aliens that come to earth probably cannot check it out. The lowest dimension where my plasm body exists is 4D, which is located outside of the table.
So many beings including aliens have come to my house for Darshan. On that occasion, I have my plasma body descend to the plasma plan in 3.0D.
To tell the truth, a delegation of Cobra RM (Resistant Movement) came to me. I'll talk about it at another time.
Seven Planes of Solar System
Takejizaiten

3.9D

Adi plane

9D

Rakuhengeten

3.8D

Anupadaka plane

8D

Monad

Tosotsuten

3.7D

Atma plane

7D

Atman (Cosmic Self)

Yamaten

3.6D

Buddhi plane

6D

Buddhi (Cosmic Intellect)

Sanjuusanten

3.5D

Causal body
Mental body

Manas plane

5D

Manas (Cosmic Will)
Ego (Higher Self)

Shitenouten

3.4

Astral body

Karmic plane

4D

Kurushuu

3.3D




Gokashuu

3.2D

Etheric body




Shoushinshuu

3.1D

Physical plane

3D

1st ether





2nd ether





3rd ether





4th ether
Gas, liquid, substance

Senbushuu

3.0D

Physical body (in the broad sense)
Senbushu (3D)
1st etheric layer
2nd etheric layer
Light body
3rd etheric layer
4th etheric layer
(Plasma layer)
Plasma body
Gas layer
Physical body (deep layer)
Liquid layer
Physical body (middle layer)
Substance layer
Physical body (surface layer)