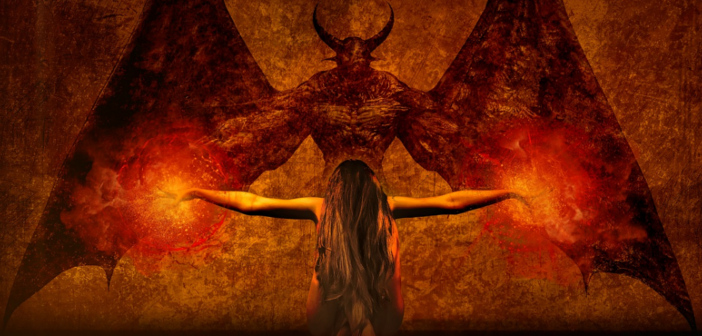 Mr. Trump who won the presidency thoroughly made spiritual purification of the White House before entering the Oval Office. He had to sprinkle holy water on everything and expel the evil spirit by the power of prayer.
According to the first article, Pastor Howard-Browne who carried out such purification ceremony revealed how Hollywood and Washington DC Elites worship devils. He says: "These people go through seances, these people drink blood, these people sacrifice children."
I have picked up such Satanic Ceremony by the Illuminati over and over on the blog. The pastor says: "The human sacrifice and the cannibalism has been going on for years." Reading the Old Testament, you must realize that such abhorrent satanic rituals have been performed for tens and thousands of years.
Akhenaten (alias Amenhotep IV) carried out a drastic religious reform in ancient Egyptian civilization. We should see it as a departure from Satan worship which was rampant among oracle forces. Given the collapse of the Atlantic civilization, there is no doubt that such Satan worship has continued for tens of thousands of years.
Why has such Satanism continued? One of the reasons is that most people never think such information is the truth. Even when they hear a warning: "keep your eyes on your children in Disney Land," most people just dismiss it as an urban legend and never take it seriously.
As shown in the second article below, the world's biggest pedophile ring has been busted by police. The article says: "Most of the pedophile ring member detained are thought to have direct involvement in sexually abusing children." It is likely that further investigation will lead to revelation of those who killed children.
According to the last article, a camp in Arizona where pedophile crime had been committed was discovered. The latter half of the article deals with the Comex that owns the camp.
As expected, the Comex is linked to the Clinton Foundation. They say that Hillary Clinton worked behind the scenes in the 2010 earthquake in Haiti and many Haiti children were missing.
The information that the son of (former) Mexican president is a former member of the Hollywood human trafficking cartel for sexual abuse makes us surprised but it is also convincing enough to convince us to believe it is the truth. It makes sense that such people are linked to George Soros and the Rothschild family.
Given these facts, we may well understand why President Trump tries to build a wall on the border with Mexico. Just imagine how many of immigrants from Mexico are connected to such human trafficking cartel, and it would make us shudder.
Judging from President Trump's remarks with Satan worship and human trafficking cartel in mind, we can understand the weight of his words very well.
Shanti-phula has indicated some parts of the following text in black boldface type or in red letters.
Trump Pastor: Hollywood & Washington DC Elites Are All Satanic Pedophiles
Says powerful elites drink children's blood during Satanic rituals
A pastor closely linked to President Donald Trump has issued a devastating statement exposing horrific crimes of America's "elite."
Rodney Howard-Browne, who's perhaps best known for hosting the "laying of hands" prayer on President Donald Trump in the Oval Office

, has blown the whistle on Hollywood and Washington D.C.'s most powerful figures.
According to Howard-Browne, so-called "elites" at "the highest-level" are Satanic pedophiles who engage in human sacrifice rituals and drink the blood of children.
"These people are full of the devil.
"These people can't even be reasoned with.
"They have already given their soul to the devil.
"

These people go through seances, these people drink blood, these people sacrifice children

."
In a video posted online, Howard-Browne added:
"

They sacrifice children at the highest levels in Hollywood

.
"They drink blood of young kids.
"That's why

the next thing to be exposed

will be all the pedophilia

that is going to come out of Hollywood and come out of Washington, D.C.
"The human sacrifice and the cannibalism has been going on for years."
Howard-Browne then described the supposed satanic rituals that go on in Hollywood.
"
Many of the Hollywood actors

that you go see on a screen, what you don't know, they

bring a witch, they do a big seance right there on the set

and

they worship devils and they allow devils to come into them before they take the part of what they're going to act

," he said.
Massive Pedophile Ring With '70,000 Elite Members' Busted By Police
'Operation Rescue' had identified 670 suspects and 230 abused children
By: Daniel Jones, www.neonettle.com
A massive internet Pedophile Ring with up to 70,000 elite members, now thought to be the world's biggest, has been busted by police

according to security officials.
The bust, which was part of "Operation Rescue"

had identified 670 suspects and 230 abused children in over 30 countries

, had now taken to many victims to safety. Officials say that

184 people had been arrested with investigations in some countries still ongoing.
Most of the pedophile ring member detained

are thought to

have direct involvement in sexually abusing children

. Suspects include scout leaders, teachers, and even police officers according to AP.
Law enforcement authorities from 13 countries, including the United States, Australia, Canada, Italy, Spain and the U.K., were involved in the case

, Europol said.
Peter Davies, of the center, said there would be more arrests as the investigations continue.
The following information is an eyewitness account on

a child sex trafficking camp in the Tucson area, Arizona.

<snip> This camp was discovered by a group that patrols the streets and tries to rescue veterans who are homeless, drug addicted or impaired in some fashion.
*Camp will be dismantled with prison cell, all children's items,

all physical evidence of human trafficking

, receipts with dates, and bags of human waste

collected and delivered to DHS

once catagoring is completed Monday afternoon.
The mail sent by another information source

on this camp

has

revealed the involvement and history of Cemex.
This company is

also

a partner of Clinton Global Initiative

. Comex is connected to Haiti through the Clinton Foundation. Comex contributes 100 million dollars to the Clinton Foundation. <snip>

One of Comex owners

is

Bronfman Rothschild

, head of the Central Bank and the husband of Sara Bronfman became the owner of SA Trade Initiative in Libya after Clinton and Obama collapsed the Gaddafi regime. <snip>

Emiliano Salinas is the son of former Mexican president

Carlos Salinas and

a former member of NXIVM, Hollywood cartel involved in human trafficking for sexual violence.

Salinas works for Lazard Investment connected to Gorge Soros.

Jonathan Rothschild is mayor of Tucson. The sheriff of Pima Country, Arizon, is controlled by Greenberg Carter.