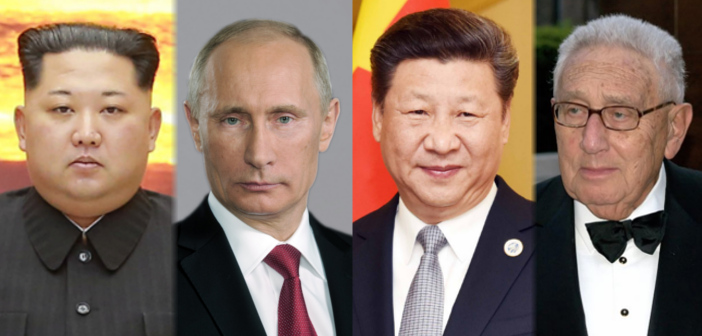 The first tweet below says: "What great diplomatic sense North Korean leader Kim has!" I quite agree with the tweeter. I mentioned on the blog some time ago that Kim Jong-un is a Hotsuma deity and he has great ability as a politician. I suppose that many people share my opinion now. He is going to achieve historical mission given to him.
Although I have often thought that he would fail to achieve his mission, he has excellently come back almost at the last moment. Kim Jong-un has now become one of the most reliable politicians along with President Putin and President Xi Jinping.
What is going on is a campaign of "Kim Jong-un, you have been a good guy." It is necessary to make Kim Jong-un a star by completely changing the image of Kim Jong-un who is likely to assume a post such as Emperor in Japan after North and South Korean reunification.
The two videos below refer to the background of this historical moment. Mr. Fulford says at the 8:06 – 8:55 mark of the first video: "They have already reached broad agreement." Mr. Daikaku Choudouin, president of Japan Net TV Press Association, says at the 2:15 –2:44 mark of the second video that he expects the world to be unified thanks to the leadership of President Putin. I think he has the correct sense.
As I have mentioned on the blog on several occasions, this has already been realized from the viewpoint of spirituality. President Putin has assumed the post of global emperor and rules our Solar System. Dr. Kissinger faithfully serves President Putin and thanks to his efforts, North-South Korean reunification is going to be realized.
President Xi Jinping and North Korean leader Kim Jong-un are ranked higher than President Putin in divinity. However, the Solar System is basically ruled by humanity and Hotsuma deities are descended on Earth simply to set an example by their own behavior. Therefore, I suppose that Xi Jinping and Kim Jong-un will support President Putin's global vision in cooperation with President Putin.
We can safely say that the current Earth is led by political geniuses such as Xi Jinping, Kim Jong-un, President Putin and Dr. Kissinger.
Shanti-phula has indicated some parts of the following text in black boldface type or in red letters.
English translation of the Japanese version of Sputnik – April 27, 2018 –
M. Kim Jong-un arrives at Panmunjom

North-South summit meeting [Video]
On 27,

North Korean leader Kim Jong-un

arrived at DMZ village of Panmunjom

for a summit meeting with South Korea President Moon Jae-in.
Kim Jong-un became the first North Korean leader to cross the border and visit South Korea.
In response to the invitation of Kim Jong-un, Moon Jae-in walked to the North Korea side of DMZ.
Then they shook hands for about 30 seconds. When shaking hands, both of them stayed at the side of each country and exchanged a few words. Kim Jong-un was accompanied by a delegation of nine high government officials.
After shakings hands, Kim prompted Moon to walk to the North side for a photo shooting.
The two moved to the House of Peace for a summit meeting after attending the welcoming ceremony by honor guards in traditional costume which the Imperial Guards in the Joseon dynasty wore.
English translation of the Japanese version of Sputnik – April 27, 2018 –
White House releases photos of Mike Pompeo with Kim Jong-un

[photos]
White House press secretary Sarah Sanders
has released photos of former CIS Director Mike Pompeo who has assumed the post of Secretary of State meeting with North Korean leader Kim Jong-un

.
In the photos, both of them are shaking hands in Kim Jong-un's residence. Caption says that the photos were taken when Secretary Pompeo visited North Korea during March 31 –April 1.
Great to have Secretary Pompeo confirmed. He will do an excellent job helping

@POTUS

lead our efforts to denuclearize the Korean Peninsula. (photos from previously confirmed Easter weekend trip)

pic.twitter.com/o4RNDKVmah

— Sarah Sanders (@PressSec) 2018年4月26日
Press Secretary Sanders
wrote in her tweet with photos: "

Great to have Secretary Pompeo confirmed.

He will do an excellent job

helping @Potus lead our efforts to denuclearize the Korean Peninsula."
Distributed by YouTube – April 26, 2108 –
Release of FBI inside mails, Embarrassing story, which Obama is threatened for, heard from Russian VIP security company, and Human sacrifice ceremony by Washington elite in which children are eaten
Distributed by YouTube – April 26, 2018 –
President Choudouin seeks for the leader who can realize One World [NET TV News] Russian Commission