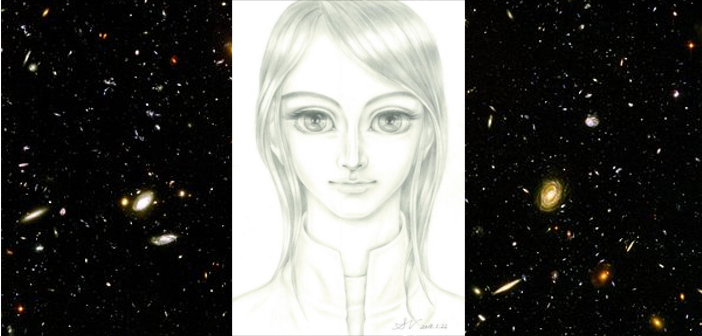 Mrs. Seiko Nakanishi has drawn an illustration of my plasma body. According to Mrs. Nakanishi, it took her a lot of time to draw the illustration although she is not sure whether there was any obstruction or not.
I think there must have been some obstruction. Furthermore, this illustration has been drawn in a different way than the second and third illustrations of my Linga Sarira and causal body below were drawn some time ago.
The two illustrations were drawn by Mrs. Nakanishi herself. The illustration of my plasma body has been drawn under spiritual guidance of a deceased actress Masako Natsume who has become a divine spirit.
It is I who advised Mrs. Nakanishi to ask Natume-sama to spiritually guide her, because Mrs. Nakanishi is a divine spirit and she has no divine body in a broad sense. Mrs. Nakanishi is the Heavenly Empress of Sirius System Earthly Deity 4th Level (one deity of five deities ki, tsu, wo, sa and ne) and she is originally a deity. Since she has a physical body, however, she is a divine spirit now. The Divine spirit is defined as a spirit whose higher dimensional bodies including Linga Sarira are divine bodies. Mrs. Nakanishi will get back a divine body she originally has when she becomes Linga Sarira after death.
Mrs. Nakanishi succeeded in drawing an illustration of SaLuSa's physical body under spiritual guidance of Masako Natume-sama before. Therefore, I advised Mrs. Nakanishi to draw an illustration in the same way. Incidentally, Masako Natsume-sama is one of Misofu deities (thirty-two deities) of Sirius System Earthly Deity 5th Level.
The physical body in a broad sense is divided into three bodies; etheric double, plasma body and physical body. As for ordinary people, physical body and two inner plasma body and etheric double share the same age.
However, I am reincarnated as a Hotsuma deity. I achieved the realization of Brahman through *Sahaja Nirvikalpa Samadhi when I was 24 if memory serves. Therefore, all of my inner bodies share the same age, 16 years of age.
Incidentally, as for my wives and I, all inner bodies do not get older forever.
When I saw the illustration of my plasma body, I thought of asking Mrs. Nakanishi to contact with my plasma body and release a correspondence between my plasma body and me. However, I decided not to do so because I felt it is so absurd to ask myself how I am doing over there.
I can understand very well why those that dislike my messages tried to prevent Mrs. Nakanishi from drawing an illustration. That's because there are many psychics with plasma-level visual acuity and aliens must also have such visual acuity and understand how the plasma plane is. In other words, release of this illustration will make them clearly understand that all information I have provided on this blog is true.
Darshan
(the act of beholding a deity) is often carried out at my house. I descend from higher dimension to this 3D plasma plane. When I descend, they can see me.
EDIT:
I mentioned the disappearance of Masako Natsume-sama in an article dated June 14, 2015. Since the information I provided in the article was not accurate, I make corrections here. As shown in the article, she was executed because she had got involved in a coup in the heavenly world. However, it would seem that her soul (Jiva) didn't disappear because she was not the principal offender. Three days later she was resurrected as a spirit body and forgiven. She has become one of Misofu deities as I commented above.
Usually, a spirit body like her which is resurrected three days later almost always comes over to kill me, and as a result, loses its soul (Jiva). However, it was not the case with her. I think it is a rare case, but there may be other cases I don't know.
I apologize that I posted inaccurate information.
Sahaja Nirvikalpa Samadhi is the highest form of Samadhi.