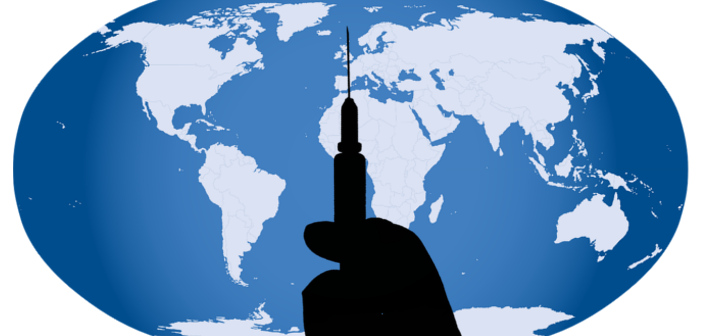 Unlike the headline, the first article is mealy-mouthed but rather unwilling to give clear-cut opinion.
I can imagine that if a clear-cut opinion is given, it would probably lead to a lawsuit. I am not sure about what the last paragraph says. It probably indicates that there is no problem at all without vaccination only if you use nutrition support at home when you have a cold or get the flu. According to the article, flu shots contain mercury. We can say that vaccination is likely to pose a risk.
The second article makes a bombshell statement. According to Mr. Rraila Odinga who ran for president of Kenya, the WHO, UNICEF and the government worked together to have 500,000 women and young girls left infertile with tetanus vaccination.
Mr. Odinga
ran in the Kenya presidential election in 2017 but lost in the election though he took second place to the current president. The Kenya Supreme Court admits the election was rigged. If the election had not been rigged, Mr. Odinga should have been president.
His remarks indicate that the world depopulation agenda by globalists is the fact. Our donated money is used for such an evil conspiracy.
Shanti-phula has indicated some parts of the following text in black boldface type or in red letters.
100s of 'Vaccinated' Children Dying From Flu - Media BLACKOUT
Big Pharma scramble to cover up deaths
Hundreds of vaccinated children are allegedly dying from flu across America after getting the flu shot
, statistics the mainstream are not reporting as Big Pharma move to cover up the scandal.
According to the CDC,

this year's flu has now killed 44,116 people

as the flu vaccine fails to fight against the this year's particularly nasty H3N2 strain.
This Centers for Infectious Disease Research and Policy (CIDRAP) article discusses a study published in The Lancet spanning 11 years that demonstrates

H3N2 is more resistant to the flu vaccine.
To make matters worse, this year's flu vaccine isn't even close to the average 33% VE rate of prior years.

This year's vaccine is performing at approximately a 10% VE rate

.
How many children who died from this year's flu were vaccinated with the "10% effective" flu shot?
Note that

the vaccine-pushing media

isn't reporting headlines such as, "Child who died from the flu was vaccinated with the flu shot." No, that would be heresy to the vaccine dogmatists and propagandists who

desperately push the false science that claims flu shots always work

.
CBS News dutifully demonstrates this pseudoscience delusion by restating the fictitious mantra of the flu propagandists: "Experts say that

if you do get the flu, it will likely be less severe if you have gotten a flu shot

."
There is evidence, however, that mercury-laced flu shots are killing infants
.

A 4,250% increase in fetal deaths was documented following the mercury-laced flu vaccination sweep of 2009 – 2010

. Furthermore, Natural News has irrefutably proven that

flu shots still contain mercury

, even though

the vaccine industry

deliberately lies and

claims mercury has been removed from all vaccines given to children

.

That's a deliberate lie

.
<snip>

it's downright criminal that the medical establishment and legacy media both refuse to tell parents how to save the lives of their children through low-cost nutrition.
Big Pharma Co Caught Using Vaccine to Sterilize 500,000 Women & Children
Licence suspended after government's tetanus vaccine sterilizes 1/2 million
A Big Pharma company has had its license suspended after it was caught adding sterilization drugs to the government's mandatory vaccines which resulted in half a million women and children becoming sterilized
.
Raila Odinga
, who swore himself in as "the people's president" of Kenya this week,

has confirmed that

testing shows that

500k citizens have now been affected by illegal forced-sterilizing

through

the state-sponsored

tetanus vaccination

.
The laboratory for a large industrial pharmaceutical company has since had its license suspended by the Kenya Accreditation Service as a result of the investigations.
According to Odinga,

vaccines that were administered by the government in 2014 and 2015 have left 500,000 woman and young girls infertile

.
It is believed that the infertility drugs have been added to the tetanus vaccines as part of a larger depopulation experiment, according to reports.
A group of Catholic doctors originally made the accusations claiming that the vaccines may contain a hormone that is dangerous to young women and can cause potential sterilization.
Odinga said girls and women aged between 14 and 49 from the fastest growing populations in the country will not have children, because of

a state-sponsored sterilization exercise that was sold to the country as a tetanus vaccination

.
The Catholic Church was ignored

when it mounted a strong but

lonely campaign

against the mass tetanus vaccination, after

it raised concerns about the safety of the vaccine

that was being used, he said.
At the time, the Catholic Church in Kenya claimed that

the tetanus vaccine used by the government of Kenya and UN agencies

was contaminated

with a hormone (hCG) that can

cause miscarriages and render some women sterile

.
"
The Church's position was informed by what had happened in Mexico, Nicaragua, and the Philippines
, where

the various governments together with WHO/UNICEF had conducted similar campaigns

using tetanus toxoid impregnated with beta human chorionic gonadotropin (BhCG) that causes permanent infertility among girls and women

," Odinga continued.
Also, after the discussion came to a head, in spite of claims of tests showing contamination, UNICEF and the World Health Organization later said that the vaccines were safe and procured from a pre-qualified manufacturer.
However, according to Odinga, they accessed the analysis from four highly-regarded institutions, such as Agriq Quest Ltd, the Nairobi Hospital Laboratories, the University of Nairobi and Lancet Kenya.
"
These results all indicate that the Tetanus Toxoid Vaccine had high contents of beta human chorionic gonadotropin hormone (BhCG) that causes sterility in women."