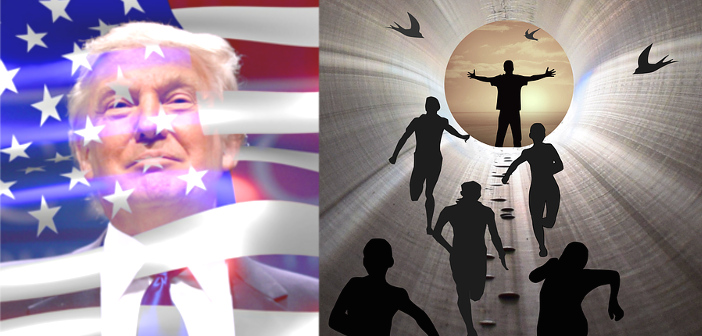 This article is related to the previous article. According to the article, President Trump has vowed to free 25 million child sex slaves globally. Lolita Island was reportedly operated by Mossad. Since President Trump made a global-scale promise, I would have to think that President Trump has it in mind to eradicate Mossad.
What is described as global elite pedophile rings in the article seems to have almost the same meaning as the Iluminati. It follows that President Trump has declared to eradicate these groups.
Apparently, the declaration frightens pedophile rings. The site administrator of the Japanese article says in note from translator at the top of the article: "These people are in a hurry to cause World War III." I think that this is exactly true. Probably false flag operation on Iran is planned to be launched for this purpose. However, I think that they will have zero chance of success.
Shanti-phula has indicated some parts of the following text in black boldface type or in red letters.
Trump Vows to Free 25 Million Child Sex Slaves in 2018
US President to free millions of children from elite pedophile rings
Trump
vowed to address this problem

before assuming the presidency and

said that pedophiles will get the death penalty.
As soon as a new year started, Trump made a statement about this
before everything

. It shows his strong determination on the problem. He ordered

to prepare for a great number of high-level government officials in the Guantanamo Bay detention camp

. (

Probably these people are in a hurry to cause World War III.

) Naturally, mainstream media including in Japan won't report the fact, because they are in a position to protect elite pedophile rings. Those who protect criminals are also criminals.
*This section is translated by Shanti-phula.
President Donald Trump has vowed to free 25 million child sex slaves that are being held within elite pedophile rings globally.
With the recent announcement

on the official White House website stating that 2018 will be the year the Trump administration takes down global human trafficking

, the statement also named January as "National Slavery and Human Trafficking Prevention Month."
Trump also promised that he would "recommit" to "eradicating the evil of child enslavement"
adding that "Human trafficking is a modern form of the oldest and most barbaric type of exploitation," the press release on Friday read.
"
It has no place in our world.
This month, we do not simply reflect on this appalling reality.

We also pledge

to do all in our power

to end the horrific practice of child trafficking

that plagues innocent victims around the world."
There are
currently

25 million adults and children enslaved globally for "for both sex and labor,"

with sickening crimes used by the elites to enslave humanity.
"
Human traffickers prey on their victims by promising a life of hope and greater opportunity, while delivering only enslavement," the release continued.
Trump also revealed the effective measures he will be using to eliminate child trafficking.
"
In February, I signed an Executive Order to dismantle transnational criminal organizations
, including those that perpetuate the crime of human trafficking."
(President Trump drops a Bombshell!!!

Human Trafficking Executive Order.)