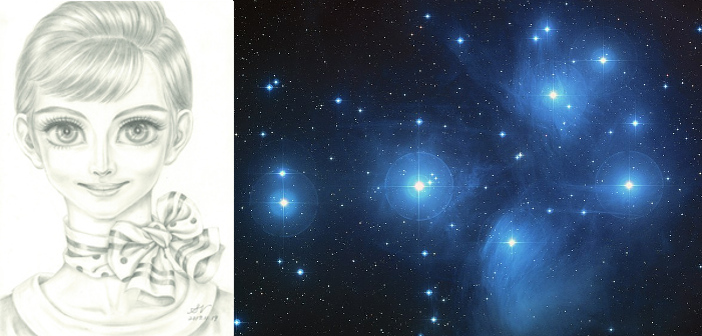 Mrs. Seiko Nakanishi has drawn the illustrations of Pleiadian cosmonaut Ms. Ra Tesh and her husband Mr. Sontoku Ninomiya. I'm going to introduce his illustration and his message tomorrow.
I didn't know why, but Ms. Ra Tesh, who appeared in my dream, had black hair and did up her hair in Japanese style. She looked like Audrey Hepburn and she never looked Japanese. I wondered why but I didn't think more deeply about it.
According to Mrs. Seiko Nakanishi, an article caught her attention while she was reading the life story of Mr. Sontoku Ninomiya. The article says that he remarried a 16-year-old girl Nami when he was 34 years old. Mrs. Nakanishi suddenly realized that "Ra Tesh-sama was Nami-sama in a former life." My intuition also tells me that Mrs. Nakanishi's inspiration is correct.
Both of them incarnated as humans again after spending some time in Linga Sarira. Subsequently they saw each other again and remarried. Considering the happy married life they have spent, it proves their love true.
Mrs. Nakanishi has drawn illustrations of Ra Tesh's Linga Sarira. I saw her plasma body. I asked Mrs. Nakanishi to get in contact with Ra Tesh's Linga Sarira and plasma body.
Reading the correspondence below, you can see that Mr. Sontoku Ninomiya and Ra Tesh get married in terms of both plasma body and Linga Sarira. In fact, both of them get married in all bodies including from physical body to causal body. This is an extremely rare case.
With regard to earthlings, in most cases, they get married only physically but they are strangers in terms of bodies higher than plasma body. Religiously speaking, the marriage of higher body is called holy marriage (Hieros Gamos). In case of the two, we can say that their marriage is the ultimate form of marriage.
Both of them have got promoted from humans to deities. It is quite natural because the two have nurtured marital love.
As is the case with the two, humanity will naturally be liberated from earth, enlightened and evolve to deity by nurturing love.
Heavenly Message by Mrs. Seiko Nakanishi 34
<Communicator: Seiko Nakanishi>
<Communication date: November 20, 2017>
Ra Tesh-sama: Linga Sarira
I am very happy to learn that you have drawn an illustration for me.
(Nakanishi)

Have you already looked at it? (The illustration has not been posted).
Yes. I am very surprised. I think the illustration is very much like me.
You must have looked at me?
(N)

(Silence)

( I have no psychic ability.)
At any rate, the illustration has exactly the same hair style.
You have drawn my illustration so charmingly. I enjoyed celebratory drinking with my husband.
I have never dreamed of the day when you will draw our illustrations.
(N) I am so glad to learn that you are so pleased at the illustrations. The pleasure is mine.
"Hello, my sweet old Earth and all dear earthlings!
I am "Nami" who used to marry Mr. Sontoku Ninomiya.
I go on duty as Pleiadian cosmonaut.
I often remember those days with nostalgia.
Japan I loved and beautiful earth are facing a severe crisis.
All of our aliens are working all our strength to revive Earth.
My husband and I met again, transcending racial barriers, thanks to our bond in our former life and we were able to get married. This creates a momentum in our work.
Illustrations of two of us will encourage us to fulfill our duty and highly motivate us to do so.
I feel sincerely happy to work together with all of you earthlings.
Let's develop patience and strengthen love together for a while.
Let's walk together, seeing this time as something necessary to develop virtue.
Ra Tesh-sama: Plasma Body
I have just seen the illustration.
My Linga Sarira is very charming, but it is slightly different than me.
I have slightly smaller eyes and a bigger mouth. I am not as beautiful as the illustration.
I am slightly "better than the middle"? (Laughter)
(N) Though you say so, Mr. Takeshita says on the blog that you are a "beauty."
His words make me happy. He said so because I did up my hair in Japanese style, I think.
I am Ra Tesh in plasma body and appeared in Mr. Takeshita's dream.
I did up my hair in Japanese style. That's because I wanted to let him know that I was Mr. Sontoku Ninomiy's wife, Nami in former life.
Japan nowadays is greatly different from Japan in those days. Japan is faced with global disasters.
You spend every day living through extreme hardship such as various incidences, conspiracies and natural disasters occurring across the world.
I am assigned to serve as Pleiadian cosmonaut and work day and night together with my friends on universal level in order to create a paradise on earth.
The earth we look from the universe is shining astonishingly far more beautifully than before the reformation.
On earth, however, crimes have been created one after another and every time such crimes are revealed, many good people are put into confusion and anxiety.
Especially, corrupt and injustice of the Japanese government is too much to tolerate. All political and economic organizations on earth are connected to the root of evil. We have to reform such organizations including the root of evil by all means.
Please keep in mind that your friends in the universe are working together cooperatively to achieve the goal. I hope that you will keep your inner peace and pray with firm belief that a bright future will come.
Let's become connected together emotionally and consciously to create a network of love.
In order to completely cut off the network of evil!