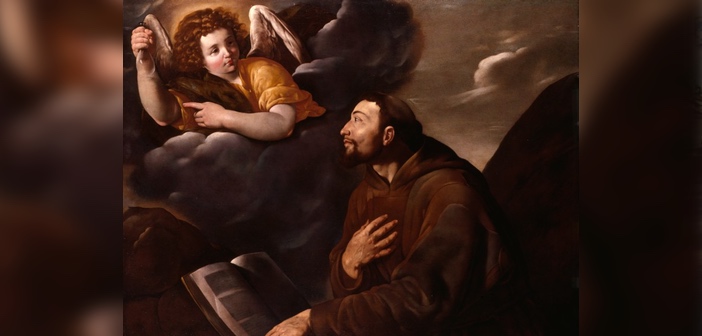 I pick up an article of Sputnik which features St. Francis of Assisi. According to the article, a sack of bread was delivered to a friary in Italy by an angel at the request of St. Francis. If the legend is genuine, the angel might have been an inhabitant living in underground world who Mr. Corey Goode has contact with.
I pick up St. Francis because he assumes a high position in the heavenly world. See the Futomani Divination Chart described in an article dated December 16, 2014. In the article I explained that two groups of "Eight deities of to, ho, ka, mi, we, hi, ta and me" and "Eight deities of a, i, fu, he, mo, wo, su and si" and "we" and "mo" are the head of each group. These two deities are identical to "two Guanyins (or Avalokitesvaras)" H.P. Blavatsky calls in "The Secret Doctrine."
At present, St. Francis is the deity "mo" in 1st System Earthly Deity 5th Level and this is equivalent to the post of "Christ" which Maitreya took in the former earthly organization of Hierarchy.
Considering the activities of St. Francis, he undoubtedly takes the post of "Christ" in the current heavenly world. It is St. Francis who spiritually guided Mother Teresa who was engaged in relief activities. At present, St. Francis spiritually guides Dr. Tetsu Nakamura, who represents the Peshawar-kai. Activities by the Peshawar-kai make you clearly understand the personality of Dr. Tetsu Nakamura as well as the personality (or divinity) of St. Francis.
Although I have some hesitation about writing here, there is a very wonderful shop "Angelo" in Ichinomiya City, Aichi Prefecture. The shop sells imported furniture and products from Italy.

The shop has enough space to hold a small-scale lecture meeting. I held a lecture meeting several times there.
As a matter of fact, this shop is very special space

where divine light of St. Francis is poured.
Let's get into the main issue. Yesterday I introduced an article on Lady Gaga, where I wrote: "She might be saved" and "If you want to reduce her sufferings as much as possible, please convey this information to her."
As she is an Italian American, it can be easily imagined that Lady Gaga has assiduously prayed to Jesus on the cross. Please note that St. Francis now takes the post of "Christ." It seems that the comment I made yesterday was conveyed to Lady Gaga by St. Francis. However, it happened not in narrowly defined physical level but in plasma world.
Around 11:30 a.m. today the plasma body of Lady Gaga came to me. Her visit is a sign that she has truly turned over a new leaf. I raised her soul (Jiva) and Linga Sarira, both of which had sunk deep into the Mineral System, to the Sirius System. She was saved in this way.

It is I myself who is surprised at this most.
I asked Lady Gaga to convey to people that they chant Gayatri Mantra and Mantra of Love. I believe that she will cooperate at least on plasma level.
Shanti-phula has indicated some parts of the following text in black boldface type or in red letters.
English translation of the Japanese version of Sputnik – September 26, 2017 –
What did scholars who investigated a sack which according to legend, Saint Francis of Assisi asked an angel to send from France to a friary in Italy know? [Photo]
Danish and Italia physicists determined the age of the bread sack which according to legend, St. Francis of Assisi, who was in France at that time, asked an angel to send to a friary in Italy.
Investigation results were posted in a journal Radiocarbon.
According to legend, a sack containing bread as present from St. Francis was delivered to the Friary of Folloni located in southern Italy in the winter of 1224.
The sac has been carefully kept as holy relic by friars. Dr. Kaare Rusmussen at University of Southern Denmark located in Odense succeeded in investigation of the sac after persuading them to have him investigate it.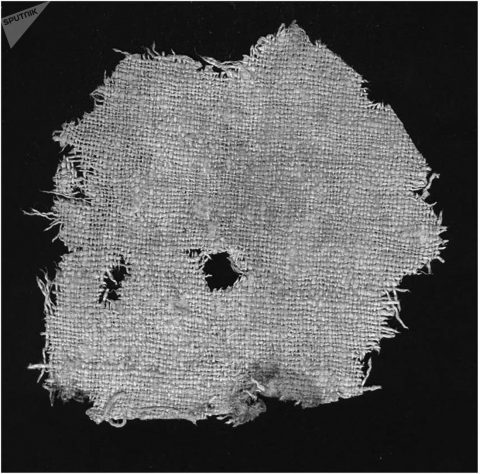 @Photo: Rasmussen et al./Radiocarbon 2017
Sac of St. Francis of Assisi
The results of analysis show that the bag dated back to approximately 740 years.
This indicates that the relic was not a fake but the real thing which existed in the times when St. Francis of Assisi was alive.
On the other hand,

scholars stress that

the sac ruled out the possibility that the legend was handed down after Francis died

though it does not prove that the sac was sent to the friary at the request of Francis.
According to earlier report, several dozen tradition-minded Catholic theologians and priests have accused Pope Francis for spreading heresy and sent an official letter demanding "correction" of heresy to the pope.