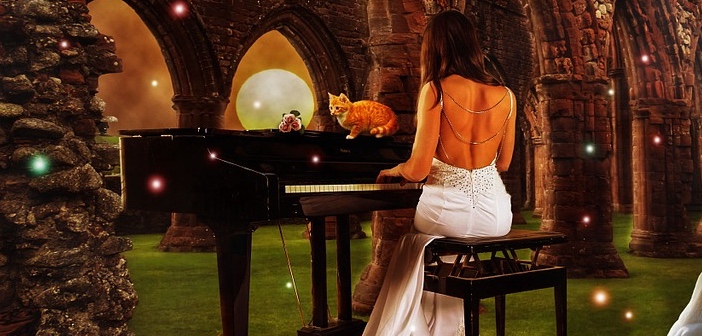 When I replayed the videos below, I thought: "What excellent videos I saw!" This is exactly mutual affection between the pianist and the cat. How superb! When I see the last video of "a blind cat named Namik," I feel that Namik knows that this music was played for her.
This is the expression of best art I think. Something really beautiful is selfless.
Shanti-phula has indicated some parts of the following text in black boldface type or in red letters.
English translation of the Japanese version of Sputnik – September 21, 2017 –
Turkish pianist enchants cats [Video]
Sarper Duman, a pianist living in Istanbul, is a favorite in SNS. The melody created by Duman always change proud and solitary cats into spoiled and adorable creatures.
Duman has become a favorite since he posted a video in which as soon as he started playing the piano, a cat became a spoiled baby.
The cat can't control its feelings and rubs its cheek against Duman or put its paw on him.
Duman recently posted a video sent by a follower. It was a video about

a bind cat named Namik.
When the follower replayed a video of Duma playing the piano, Namik, a blind cat, listened to the sound. Namik pulled the smartphone to him and was fascinated by the music.
According to previous report, crane machines offered live kittens as gifts in a game center in China.