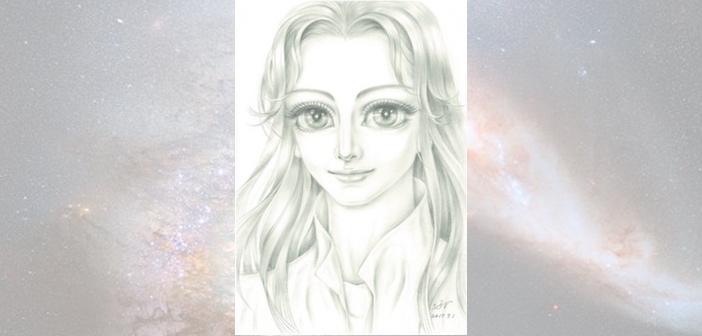 As soon as she looked at this illustration, my wife said: "How cool!" Then I said with some hesitation: "It is my causal body." My wife kept silent for a while and said: "You have hair."
My wife is very particular about hair. When looking at an entertainer or politician, she always shouts loudly: "I doubt if this person has real hair." According to her, she loved men with long hair by nature. I think that she must undoubtedly become happy after death.
I used to always say: "my long legs are folded to put them away." My wife answered me back: "I have never seen your long legs that you brag about." Looking back on how she met me, however, she was stunned to realize that she learned horse riding to meet me. I said: "You had been eagerly waiting for a prince on a white horse." However, she said: "You never look good on a white horse but you look good on a 'dosanko', a horse native to Hokkaido." I remember her having called me a "prince on a dosanko" not a "prince on a white horse" for a while after that.
I think that I would be called "a prince on Noma-chan" now. At any rate, I ask myself what makes a difference between this stuffed toy (physical body) and causal body. My wife seems to want me to wear a longhair wig. I don't remember how often she said to me: "Here is a wig" while walking in a supermarket.
My name as deity has changed one after another since the Reformation of Heavenly World. Early this year, I made an announcement about name change to Harukanauchuno-hikarino-mikoto.
The illustration drawn this time is my causal body. If you look at the illustration with a conscious awareness of the backbone, you would feel the vibrations emitted by the illustration without difficulty.
(former name: Daishoushinmakotonaru-kami-sama, 16 years of age) <Causal Body>
(former name: Daishoushinmakotonaru-kami-sama, 16 years of age) <Linga Sarira>