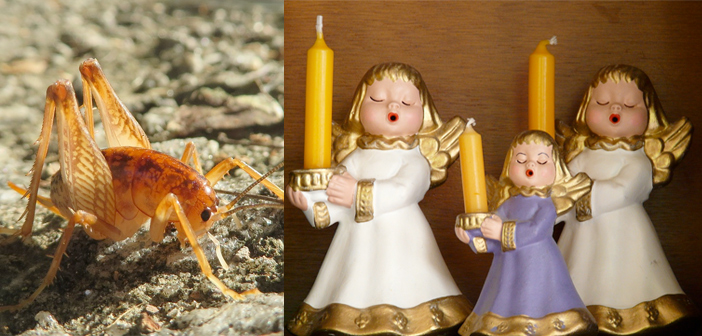 After seeing the title, I listened to the sound. Despite this, I still thought that cricket chirping sound is accompanied on a chorus singing. I read explanation of the article while listening to an "angelic chorus" and I was surprised to learn that a chorus singing was the natural sound of crickets chirping.
Then, I really understood why crickets chirping sound comfortable.
I suddenly felt that like crickets, if frog call is slowed down, it would become a singing voice to express thanks to blessed rain
Shanti-phula has indicated some parts of the following text in black boldface type or in red letters.
Slowed down cricket chirping sound becomes an angelic chorus singing
AMAZING!!!

"Gods Cricket Chorus" … You have to hear it to believe it"!!!
This
unusual

recording contains two tracks …
1st track: The natural sound of crickets chirping.
2nd track: The sound of the crickets slowed down frame by frame
to

match

and mirror

the length of lifespan of a human being.
The angelic chorus
accompanying the sound of the crickets is NOT a synthesizer or not a chorus singing, its's

the crickets themselves
We never imagined this kind of thing would happen when cricket chirping sound is slowed down.
I felt as if this music took me to another dimension.
*Note: This part is translated by Shanti-phula.