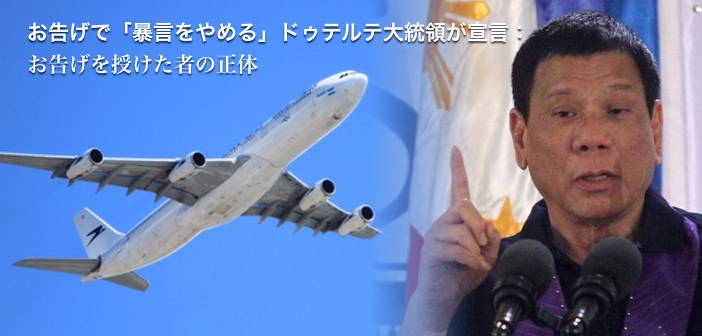 This is a terrible incident. According to President Duterte, on a flight home from Japan he received a "divine message." The voice said: "if you don't stop swearing, I will bring this plane down."
The true god can't say such a thing. It is Westerner's point of view that President Duterte uses bad language. He just expresses the truth. He says that Obama and those around him who do many bad things are fools. What's wrong with that? I wonder why God will bring his plane down for that reason. There is no legal consistency at all.
In a word, the person who claims to be God hates President Duterte says that if the president does not stop criticizing the U.S. with bad language any longer, he will bring the plain down. The true God cannot say such a thing.
The person who claims to be God is actually merely an alien, who used to be a female subordinate of SaLuSa from Sirius. It is not allowed under Galactic Federation law to intervene in the politics on Earth like this. And yet, "it is blasphemy to pretend to be God." It is also a terribly serious crime. After sending this message, her vibrations decreased to the level of Darkness.
Tachibanano-himemiko was chosen as a successor to SaLuSa but she and her next himemiko (goddess) were executed. This woman who sent the message is the fourth commander of the space relief team from SaLuSa. After this incident, she was naturally dismissed as commander.
She had already lost her soul. She lost it around at 7:30 this morning. Subsequently, she appeared in my vision. She showed no expression like a depressed patient and looked like a zombie. She is scheduled to be executed at 2100 hours today.
Shanti-phula has indicated some parts of the following text in black boldface type or in red letters.
Distributed by YouTube – October 28, 2016 –
President Duterte promised "to stop bad language" (October 29, 2016)
English translation of a reprint from the Japanese version of Sputnik – October 28, 2016 –
The President of the Philippines promises God not to use bad language
President of Rodrigo Duterte of the Philippines received a divine message and promised not to use bald language in speeches, BBC reports.
He said that

on a flight home from Japan

he got an ultimatum from God.
"

I heard a voice that said: "If you don't stop swearing, the plane will crash in mid-air.

I promised to stop."
He promised not to use slang or curse words by saying "a promise to God is a promise to the Filipino people."
The other day President Duterte insulted President Obama in a speech and said that it is time to say goodbye to the U.S.