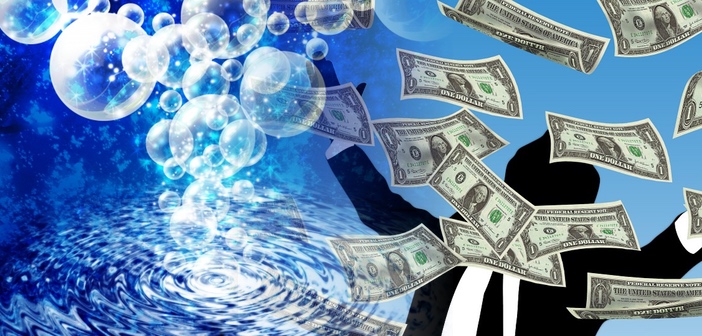 I have already conveyed that a new gold-backed currency system has started to move. Reading the article below, there seems to be no doubt about it. Since it seems that interruptions we have seen will gradually decrease, visible changes will occur some day in the future. According to the article, President Obama made a message presumably related to this. He said: "Americans must prepare for a disaster, having an evacuation plan and/or having a fully stocked disaster supply kit." We have heard information that we should stockpile water and food for a minimum of several weeks. Nobody knows what will happen. You are advised to prepare slightly more stockpiles.
Financial bubble should certainly disappear into nothingness. There is no knowing how much effect it will have on the real economy. As seen in the information from Mr. Corey Goode, how much information should be disclosed is bargained about behind the scenes and there is no sign of agreement. It is likely that confusions will be created at various levels or the plan will be interrupted so that they can put them at an advantage. As a result, economic confusion will be prolonged. However, I have a feeling that years of significant confusion will not occur.
Shanti-phula has indicated some parts of the following text in black bold face or in red letters.
President Barack Obama

, addressed FEMA's National Response Coordination Center in Washington DC

on Tuesday, May 31st

warning that Americans must prepare for a national emergency

and/or

disaster in preparation for

the hurricane season.
"One of the things that we have learned over the course of the last seven and a half years is that government plays a vital role,

but i
t is every citizen's responsibility to be prepared for a disaster.
And that means taking proactive steps, like

having an evacuation plan, having a fully stocked disaster supply kit

. If your local authorities ask you to evacuate, you have to do it. Don't wait."
President Obama
IN THE IMPORTANT NEWS, OUR FIRST FUNDS HAVE COME OUT LAST WEEK,
AND IT LOOKS LIKE BY NEXT WEEK OR SO WE WILL BE SIGNING LEASE AGREEMENT FOR OFFICE SPACE AND THE WORK AHEAD OF US WILL START.
THE DELAYS ARE OVER NOT ONLY FOR OUR FUNDS, BUT ALSO FOR THE FUNDS FOR HUMANITY
. UPSTAIRS HAS WON AND THE DIVINE PLAN IS IN FULL SWING.
THIS ALSO MEANS THE RESET, THE GCR, THE RV AND THE PPP ARE COMING ALIVE AS WELL.