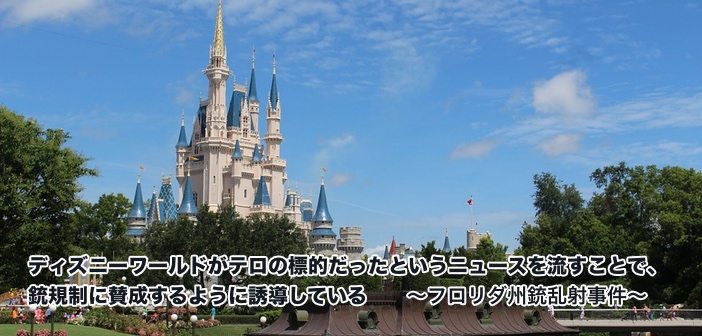 According to media reports, the suspect of mass shooting in Florida was planning a terrorist attack on Disney World. Disney world seems to be 30 minutes' drive from the incident site. Judging from the situation, this incident is clearly a false flag operation. A series of mass shootings in the U.S. were caused by the elite who aim at global control and need to grab guns away from the people. The elite are afraid to learn that under the influence of the Internet quite a few people have realized how the elite had deceived them. They know very well that they would be destroyed if the people know the 9/11 was a staged event. For this reason, they want to grab guns from the people as soon as possible. They try to induce as many of people as possible to approve gun control laws by breaking the news that Disney World
where many families and children visit was a possible target of terrorism.
The day before this incident, Christina Grimmie, a singer, was shot dead in the same

city Orlando. It cannot be coincidence.
The elite who cause such incidents are a cult group believing in esotericism and hate Christianity. As acts of the Daesh (IS) in Syria show, they love to behead Christians. Just remember that a large number of guillotines were imported to FEMA from France.
Considering such things, we see that such mass shootings will not stop occurring unless they grab guns from the people or the people exterminate them after realizing it.
Shanti-phula has indicated some parts of the following text in black bold face or in red letters.
Video source: YouTube – June 13, 201-
Disney World was a possible target of terror attack by suspect of mass shooting? (June 14, 2016)
English translation of a Japanese article: Sakurai Journal – June 13, 2016 –
There is a discrepancy between an official announcement and witnesses' testimonies in the attack on a nightclub in Florida
A nightclub "Pulse" in Orlando, Florida was attacked about 2 a.m. on June 12. According to police reports, at least 50 people were killed and 53 were injured.
A man named Omar Mateen, who is suspected to be an attacker, was killed after a gun battle with SWAT.

Reportedly, a rifle was also used.
While, on the other hand, it is likely that more than two attackers used machine guns as a result of summarizing what all testimonies of witnesses uploaded to You Tube have in common. And according to witnesses, witnesses could not get out because the doors were pushed during the shootings.
Although similar mass shooting occurred many times in the West, distrust of public announcements on many incidents have been pointed out.
We should not swallow an official announcement in this incident, either.