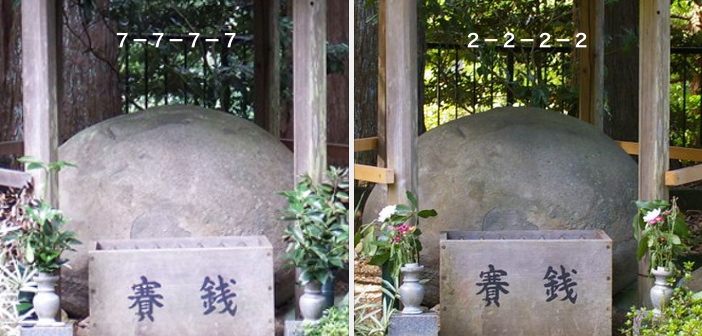 Continued report on Yonakiishi: Thanks to Mantras' Effect, Vibration of Yorokobiishi Raised on All Chakras
I introduced "Yonakiishi" in an article dated September 4. Mr. S living in Shizuoka sent me several photos of the stone. According to Mr. S, after reading the article he visited the place where the stone is enshrined to take pictures of the stone on September 6.
First, I placed the two photos of the stone taken by Mr. S, which has become "Yorokobiishi" through the influence of "Gayatri Mantra" and "Mantra of Love." And I chose four photos taken from the same angles from Internet and pasted them below the photographed by Mr. S.
After the four big-sized photos, I alternately pasted two photos photographed by S and two photos chosen from Internet one by one after cutting off unnecessary part and making adjustments in sizes for comparison.
When you see these photos, you will feel that every photo of Yonakiishi of the past makes your attention concentrate on the belly, while either of two photos photographed by Mr. S on the head. If paying closer attention to them, you will realized it is on the top of the head. Like this, the vibration of the stone has clearly changed.
However, small stones surrounding the Yonakiishi photographed in the uppermost photo have not their vibrations raised yet. However, I suppose that once they start to chant the updated Mantra of Love, their vibrations will be raised and every surrounding stone will have higher vibrations in a few days.