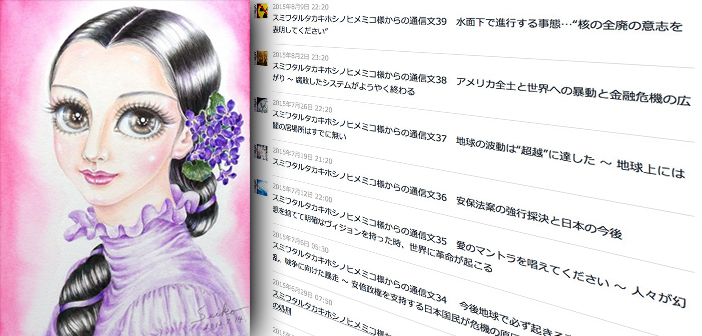 Message from Sumiwataru-takakihoshino-himemiko 40 - Future message to be delivered on an irregular base – All preparations completed and events waiting to happen
Mrs. Seiko Nakanishi says: "Since any messages have not been delivered for a while, I directly asked Sumiwataru-takakishoshino-himemiko the reason for it. She sent me the following message." According to the goddess, it seems that any message will be delivered on an irregular base when needed from now on.
In a word, it can be said that all preparations have been completed and events waits to happen. Those who have done nothing to prepare will feel like future world undergoing more drastic change than ever. However, the beings belonging to the Hierarchy had plotted out the scenario unimaginable to humanity; an all-out nuclear war resulting from World War III was only a small fraction of their plot.
Such worst scenario has been all warded off because they were destroyed and deities from all Systems offered a helping hand. However, the only thing we cannot avoid is economic collapse. I'd like you to know that it depends on the vibration emitted by the leadership of each country whether worse things will happen or not. Evil is attracted to evil. Harmonious higher vibrations are needed not to expand damage. Please use Gayatri Mantra and Mantra of Love.
Sumiwataru-takakihoshino-himemiko 40
<Communicator: Seiko Nakanishi>
<Communication date: August 15, 2015>
"I have no message to deliver today.
I'm going to deliver a message on an irregular base from now on.
I have already let you know what needs to be done in the form of messages delivered so far.
I'll take some time off simply because I have no urgent announcement to make for now.
I'm going to get in touch with Mrs. Seiko Nakanishi when needed in the days ahead.
I'd like to ask for your understanding.
Please send my best regards to Mr. Takeshita.
Sumiwataru-takakihoshino-himemiko"