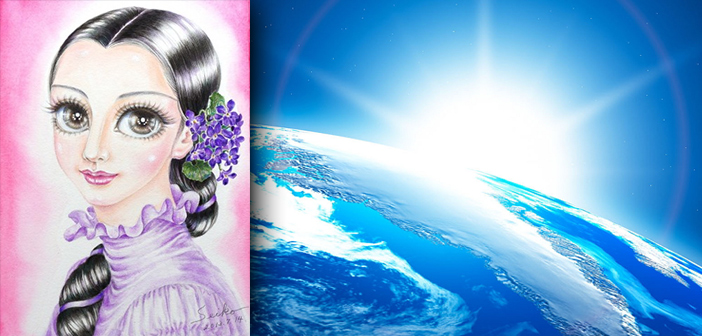 Message from Sumiwataru-takakihoshino-himemiko 29 – Judgment of religious people and approaching awakening of Earth
To carry out reformation of religion and politics on the earth, work to destroy religious people in the world who act against the will of God was done over two days, yesterday and the day before yesterday.
Religious leaders and believers were also subject to judgment. So were not only world's major religions and new religions but also channelers and healers.
Those who have been in bad shape or fallen into depression since yesterday or around today are likely to have been subject to judgment. They were judged because they acted against the will of God. Judgment had nothing to do with whether their action was not consistent with the teaching of the religion they believe.
There are definitively illegal activities, though they are done following the directions of religious leaders, for example, such as involvement with election rigging or cover-up of it. All those who had practiced religious services or operations against the will of God, and healings or channeling have been judged.
If anyone who will keep doing such actions from now on, they will become mentally ill and develop dementia. There are many people who have already been in such a state. Many of those who have not taken warnings seriously, including deities, have been destroyed. I am never talking irresponsibly. Please seriously take what I say.
Message from Sumiwataru-takakihoshino-himemiko 29
<Communicator: Seiko Nakanishi>
<Communication date: May 30, 2015>
"Earth has become very beautiful
I can see many dazzling colors.
People individually are emitting light.
Souls have been sorted out through successive Lights of Screening and as the result, only beautiful, pure souls have survived on the earth.
These souls will keep on increasing radiance.
There are still many problems in various fields, but they will be resolved, heading toward one direction.
Evolution on global scale has already speeded up and the swirl of evolution will finally engulf the solar system and the evolution is increasing its ascent rate.
Everything has been placed in what it should be by having Evil elements destroyed.
Earth will transform itself, accompanying unbelievable degreed of change.
Earth will be focused on from now on and large-scale stream of revolution will inevitably result in awakening people.
Awakening of the earth will come soon.
Please don't have fear excessively.
Your inner peace will be unmistakable signs of your "love for God" and "total surrender."
Please look forward to the future of eternal soul without having attachment to physical life alone.
Please live every moment wholeheartedly.
Please don't afraid of changes.
Please direct your attention to what will never change forever even in the midst of change.
Purify your heart, and you will find life unless you lose hope.
The above is the message from the goddess.