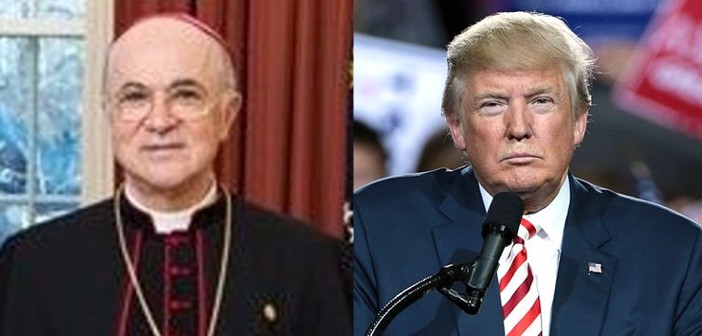 Note:
Shanti-phula has indicated some parts of the following text in black bold-faced type or in red letters.
Abp. Viganò warns Trump about 'Great Reset' plot to 'subdue humanity,' destroy freedom
'It is you, dear President, who are 'the one who opposes' the deep state, the final assault of the children of darkness,' His Excellency wrote. 'Place your trust in the Lord.'
<snip>
A global plan called the Great Reset is underway.
Its architect is a global élite that wants to subdue all of humanity, imposing coercive measures with which to drastically limit individual freedoms and those of entire populations.
<snip>
The purpose of the Great Reset is the imposition of a health dictatorship aiming at the imposition of liberticidal measures, hidden behind tempting promises of
ensuring a universal income and cancelling individual debt. The price of these concessions from the International Monetary Fund
will be
the renunciation of private property
and
adherence to a program of vaccination
against Covid-19 and Covid-21 promoted by Bill Gates with the collaboration of the main pharmaceutical groups. Beyond the enormous economic interests that motivate the promoters of the Great Reset,
the imposition of the vaccination will be accompanied by the requirement of a health passport and a digital ID
, with the consequent contact tracing of the population of the entire world.
Those who do not accept these measures
will be
confined in detention camps or placed under house arrest, and all their assets will be confiscated
.
<The rest is omitted>
*Note:
Reprint from the source