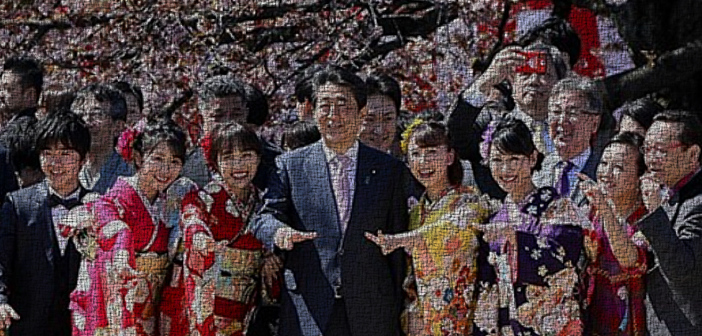 It is apparent that Abepyon is afraid of being pursued over the "Cherry-Blossom Viewing Party" scandal. His Achilles heel is the guest list said to have been "discarded." As Nikkan Gendai points out, the guest list has undoubtedly been "saved" and should be recoverable. If this list comes out, I think that the Abe administration will come to an end.
According to the last but one tweet by Ihoujin, "Prime Minister Abe who has already be in no-win situation has no other choice but to admit buying of votes, resign and be brought to justice. Based on common sense, this is exactly true. However, Abepyon does not understand common sense. Although I though he was just a "psychopath" before now, I have come to realize that we are actually fighting with a "mad man."
Note:
Shanti-phula has indicated some parts of the following text in black bold-faced type ore in red letters.
(1)
Over the "the Cherry-Blossom Viewing Party" with a lot of suspicions,
the Cabinet Office has continued to insist that the guest list was "discarded"
but Prime Minister's self-inflicted answer has completely changed the situation. As expected, his answer
almost completely disclosed that the guest list has been surely kept
.
<snip>
At the Lower House plenary session on the 22nd
, Prime Minister Abe committed a blunder <snip>
Prime Minister gave a queer answer: "If the contents of (logs) are clarified, it threatens to encourage to hack (a computer by the third party) and disclosure is a problem in terms of security."
A lot of opinions such as <Impossible> or <We can't be deceived by such a lie> are seen on SNS.
<snip>
A little bit of confirmation is enough.
They stubbornly stick to "refuse to disclose it." That's because there must be no log which indicates to be discarded. In other words, it is highly likely that electronic data in the name list has not been discarded but it has been securely kept.
<The rest is omitted>
(2)
English translation of an excerpt from a Japanese article:
Mainichi Shimbun
– January 19, 2020 –
Other ministry bureaucrats: "Impossible"
Questions arise about mystery of discard of "Cherry Blossom Viewing Party" list by the Cabinet Office
<snip>
A Ministry of Economy, Trade and Industry official
raised questions. "A Cherry-Blossom Viewing Party is an official event to invite those who have made achievements or rendered distinguished service in every field to recognize their services.
To evaluate whether the budget is appropriate, it is necessary to check whether guests comply with the purpose of the party or not. We must not discard the list which serves as evidence for eligibility.
"
A Ministry of Defense official
also said, "I can't believe it because the party is hosted by the prime minister" and did not hide his surprise. He raises a question by saying, "even in an annual event to which the Self Defense Forces invite local people, a list of guests is sure to be kept until next year.
If an official in charge is replaced in a personnel transfer, it is impossible to know what kind of person is invited every year and it will cause problems for continuation of the party."
<snip>
Not a few bureaucrats have doubt about the possibility that the list has actually not discarded but kept
. A Ministry of Education, Culture, Sports, Science and Technology official said, "the list is kept as " 'private memo' not treated as official document"…..
(3)