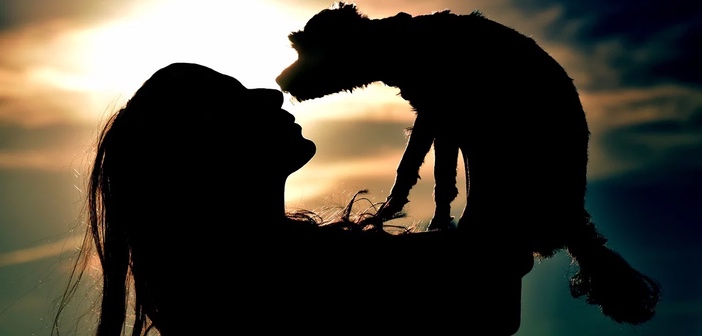 Please watch the video below at the 3:40 to 4:45 mark. A puppy sat at the entrance because he knew when his owner was coming home by taxi.
This strange action of dogs is well known to dog lovers. In this way, dogs can sense the state of mind of their owners away from them. Therefore, dogs can sense it when owners care about them. It is nothing to do with physical distance. Distance between the hearts is important. We can clearly understand that dogs cherished by owners always think of them.
Creatures cherished by humans achieve rapid progress. In the near future, such creatures will become humans. And you who have cherished their life will become god. I do hope that the relationship between humans on the earth and other creatures will be something like this.
Finally, I'd like to say that babies have the same ability as dogs. Babies understand what their parents think of even if they can't speak. Babies lose such ability when they begin to speak.
Note:
Shanti-phula has indicated some parts of the following text in black bold-faced type or in red letters.
Can dogs and cats see the "soul"? Science confirms that dogs and cats can see what humans can't see
Recently, I have happened to see a
video
of a simple experiment
to confirm the "mechanism by which a dog knew when his owner was coming home.
"
There is a presumption that "a dog can recognize when his owner is coming home by the noise of the car he always uses or the sound of his footsteps." To confirm it, I came home first by my car I always uses and secondly by a complete stranger's car.
When I returned home by my car, my dog seemed to recognize me and started to happily bark before I came home. And when I came home by a completely different car, my dog showed his happy reaction before I came home. That's a mystery!
English translation of an excerpt from a Japanese article:
Karapaia
– September 20, 2019 –
Dogs can sense the owner's fear just by sniffing (Italian study)
Researchers at the University of Naples have revealed that
dogs
can
detect human feelings
just
by the sense of smell
.
According to the journal "
Animal Cognition
" in which the research was published,
it was found that when their owners feel happy and refreshed, dogs are happy and curious, and are obedient to strangers, too
.
However,
when their owners feel fear, dogs
perceive human body odors chemosignals by sense of smell,
snuggle up to their owners as if to protect them or to avoid contact with other humans
. It turned out that
at this time, dogs feel as scared as
humans do.
<snip>
Researchers say that
it is important for owners to clearly understand that dogs can read human emotions sensitively by
their most important trait
"sense of smell."
<The rest is omitted>