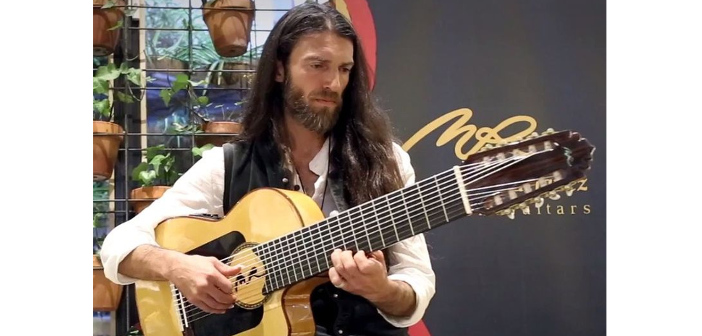 I introduced the guitar performance by Mr. Estas Tonne in the article dated July 17, 2016. I'd like to introduce his performance again because the video I introduced at that time was deleted and he is in a higher vibration now though he was not three years ago.
As for the article below "Pick inner strings!!", please read the whole text of the reference Source. Mr. Estas Tonne talks about himself in the videos. The blogger is kind enough to translate into Japanese what Mr. Estas Tonne talks about. Mr. Estas Tonne says:"I'm traveling on this planet while playing music, for a short period of time." The title of the first video is "The Song of the Golden Dragon."
Maybe Mr. Estas Tonne knows that he is a traveler and not the "soul of the earth." Most earthlings can be said to be children of Hanatachibanano-himemiko on the soul level. However, some people who are called Wanderers or Starseeds have reincarnated on the earth.
I think that the second video is good to know his music and his thoughts which he incorporates in the music. I understand very well what is said in this video. The tradition of esotericism is this sort of thing. If you take a wrong step, prayer will lead to Evil (Hierarchy/White Lodge). He is said to have been connected to Mafia, so in the worst case, he will be connected to Satan (Black Lodge). This is the sort of thing that could almost always happen.
In the second video, we see women giving a prayer to the earth. There is no possibility that the prayer will reach Hanatachibanano-himemiko, to whom the prayer is supposed to be offered. If these women have channeling ability, it is unexceptionally the aliens of Galactic Federation of Light or the underground people of Ancient Earth Break-away Civilization. Earthlings have been deceived for a long time like this.
This holds true for everyone. Your journey will never end unless you are connected to the true God. That's because to know Purusha(individual self) in the heart of people, that is to say, to unite with Purusha means the end of journey. Purusha(individual self) is your true self and God itself. People call the vibrations that pour out from Purusha(individual self) as "love."
Note:
Shanti-phula has indicated some parts of the following text in black bold-faced type or in red letters.
Estas Tonne – The Song of the Golden Dragon
ROOTS. The Return to the Inner Temple (+Subtitles)
Pick inner strings!! Nomadic guitarist Estas Tonne – Immigrant child
Estas Tonne … Shattering experience!
I have been completely enchanted by a guitarist Estas Tonne!
Traveling around the world
By the roadside,
In small bars,
And at local festivals in many places, in churches,
He independently plays the guitar live,
He is called as a modern troubadour, and
he conducts musical activities completely free from the exploitation structure by the industry system.
It is said that he sold about 50,000 CDs only between 2003 and 2007,
We can easily imagine he has sold far more CDs since then.
Video picture of his performance at Festival Stadtspektakel Landshut posted on YouTube in 2011 has been viewed more than 24 million times by 2016.
<The rest is omitted>