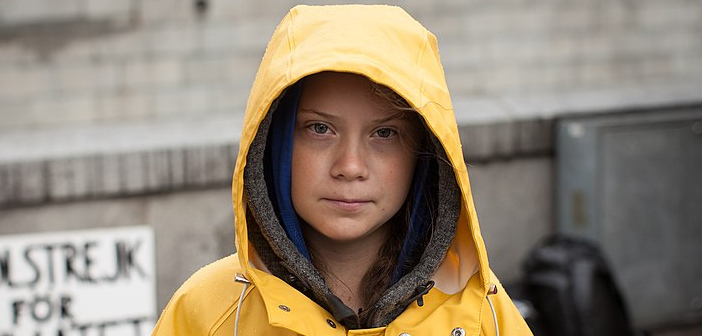 According to the article below, environmental activist Greta Thunberg who gave a speech at the UN headquarters, a commentator on U.S. Fox News program said; "She is mentally ill. She is being exploited by her parents and by the international left." FOX NEWS was forced to apologize to her.
From my viewpoint, this commentator's statement is correct. However, I think that they cannot give the name of Illuminati on TV at this stage and it would be difficult to have people understand exactly what this comment means.
You can see a photo of her with Vice President Gore on one of the tweets below. How can a mere environmental activist take a picture with former Vice President Gore?
In yesterday's article, I mentioned the word Illuminati. Immediately, information indicating the relationship between this secret society and her has appeared on the Internet.
The images on the twitter were uploaded on 24, but I saw them today through Hako Koneman and Yoanochi. If you look at her face and hear her voice, you will immediately know that she is not an ordinary girl.
As a matter of fact, an abused person emits peculiar vibrations. If you get used to seeing such person, you can immediate tell it. If you get sensitive on the level of 'ki', you can immediately feel it just by seeing the name without seeing the picuture.
For example, when you look at the list of women forced to be comfort women, you will see the list emit terrible vibrations. I think that it will be indispensable to gain the cooperation of Mayans Mr. Corey Goode gets contact with to heal the heart of these people in the future.
Note:
Shanti-phula has indicated some parts of the following text in black bold-faced type or in red letters.
English translation of an excerpt from a Japanese article:
goo news
– September 25, 2091 Asahi Shinbun Degital –
<snip>
A speech given by Swedish environmental activist Greta Tunberg, 16, at the United Nations headquarters in New York on 23 got a great response from the world. On the other hand,
a U.S. political critic made an insulting remark to Greta
and the TV station appointed as a commentator was forced to apologize to her.
The critic is Mr. Michael Knowles. After Greta's speech, he appeared as a commentator on US FOX, known as TV station close to Mr. Trump and referred to
Greta
, saying:
"She is mentally ill and she is being exploited by her parents and by the international left."
When the other commentator on the program said to Knolwes: "Shame on you. You're a grown man and you're attacking a child," he defended his comment, saying "I'm not attacking children. I'm attacking the left wing that is using mentally ill children."
In response to this comment, FOX News made an apology and said: "Mr. Knowles' comment was inappropriate."
According to the U.S. media, the network has no plans to book him for future shows.