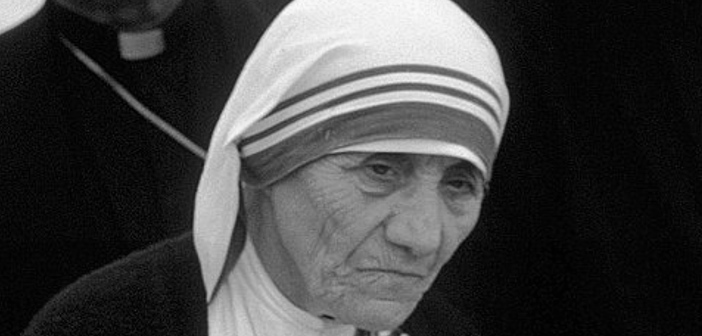 Please read the articles below from bottom up. Mother Teresa is recognized as a saint by the Vatican but actually her true character is rather suspicious. I'd like you to read the entire text of the last article on the reference source web page. Your image of Novel Peace Prize winner Mother Teresa will be completely destroyed.
She seemed to have religious belief that "we can go to the heaven if we endure suffering," saying that "suffering is a great blessing from God."
For this reason, it appears that at the hospital she built, "no treatment to relieve pain was given" and instead patients were simply encouraged to endure pain.
The problem is that she was shrewdly admitted to be one of the most eminent hospitals across the U.S. to receive treatment. We cannot help but call her a hypocrite.
Reading her speech on abortion, she does not seem to be a person who can think logically. In my opinion, it is quite natural to think that violence such as war and rape destroys peace but according to her, "the greatest destroyer of peace is abortion." I feel that I cannot communicate with her.
By the way, the first article below says that a nun and one employee of the Missionary of Charity Mother Teresa founded were arrested on charges of human trafficking. However, according to Yanocchi's tweet, the mastermind of trafficking of children was Mother Teresa. If that is the case, it is a big scandal. I think detailed information will be released in the future.
Since I hate her face and I thought that she is two-faced and she is a hypocrite, I am not so surprised at her true identity. If she is the mastermind of human trafficking, however, it is very surprising to me.
She is known to have had darkness in the heart. She confessed: "There is only emptiness and darkness at the bottom of my heart. Lord, this enigmatic pain gnaws me! I always have pain in my heart. I have no faith."
Who is the "lord" she speaks to? If she had done almost nothing to help people who relied on her to seek salvation, just had taught them to endure suffering and furthermore had carried out human trafficking, I cannot help but think that this "lord" is a Draco Reptilian and he must have recovered not only donations but negative energy (Rush) from suffering people.
Note:
Shanti-phula has indicated some parts of the following text in black bold-faced type or in red letters.
インドの議員は、マザーテレサを主謀者とする子供の人身売買スキャンダルが発覚したことを受け、彼女から名誉を剥奪すべきだと主張❗️彼女は子供の人身売買業者で、バチカンに1億ドル〜1億5000万ドルの赤ん坊等を販売していた。また、彼女の長年の助手は昨日殴り殺された。

https://t.co/enZZ4RMWgU

— やのっち(。・ɜ・)d (@_yanocchi0519) July 28, 2019
(Translation omitted)
Yanocchi
Is it all right to consider that he was killed to keep his mouth shut about human trafficking of children?
(1)
India deplores the arrest of a nun and another in the Missionaries of Charity founded by Mother Teresa on charge of selling babies
[July 7 AFP]
The Missionaries of Charity
founded
in India in 1950
by Mother Teresa
expressed indignation and regret on 6 about the news that a nun and one other woman employee were arrested on charge of trafficking of babies given birth to by unmarried women.
The police
in Ranchi, capital of Jharkhand, in eastern India,
arrested on 5 a total of two persons, a nun and another woman employee, on charge of selling at least five babies in a facility of the Missionaries.
<snip>
The incident was revealed this week when the local Child Welfare Agency reported to the police this week that a newborn baby at a home of the Missionaries that take care of unmarried pregnant women and poverty-ridden mothers was missing. <snip> The arrested employee claimed at first that the missing baby was taken to an unmarried woman who gave birth to the baby. But the police found the evidence that
the two suspects had sold the baby to a couple living in neighboring state Uttar Pradesh at close to 1,700 dollars (about 190,000 yen).
<The rest is omitted>
(2)
English translation of the Japanese version of
AFP BB NWS
– July 17, 2018 –
Indian authorities order inspections for all of Mother Teresa's orphanages followed by revelation of trafficking in babies
<snip>
[July 17 AFP] On 16 the Indian authorities ordered to investigate all orphanages founded by Mother Teresa after a nun and another were arrested on charges of trafficking in adopted children.
According to the government,
illegal adaptations have become a big business in the country
and more than 100,000 children disappear every year.
Many of them are abandoned by poverty-ridden parents and others are kidnapped in hospitals or stations.
<snip>
In a statement released in the afternoon on 16, *
Women and Child Development Minister Maneka Gandhi said that all state governments have been asked "to get child care homes run by Missionaries of Charity all over the country inspected immediately."
Note:
*Reprinted from:
(3)
English translation of a Japanese article:
Nikkan SPA!
– March 26, 2019 –
Neo boss talks: "What is Darkness of Vatican bank that connects Mother Teresa with human trafficking"? / "Nekonomics Declaration Full Version" commemorating release
<snip>
Darkness of Vatican Bank that connects Mother Teresa with human trafficking
("Weekly SPA!" posted on August 7, 2018)
A nun and another were arrested on charges of trafficking in infants in Jharkhand, eastern India.
Trafficking occurred in a shelter run by the Missionaries of Charity founded by Mother Teresa.
<snip>
We have never seen anybody like Mather Teresa whose false image was concocted by hypocrisy.
The hospice in Kolkata she founded
gets a lot of donations but have volunteers pay and work.
<snip>
The Mother Teresa Foundation
manages collected funds
and The Institute for the Works of Religion commonly known as
the Vatican Bank manages the money
. <snip> The Vatican Bank, the bank that handles God's funds,
launders money for lucrative business
.
<The rest is omitted>
(4)
English translation of a Japanese article:
TOCANA
– August 30, 2017 –
Mother Teresa has been found to be extremely sinister granny! Rumored to have invented miracles and have had connections with Darkness … Greatly shocked by the unknown true face of a saint!
<snip>
1.

Mother Teresa did not generally have patients receive medical care
<snip>
According to a survey, among sick poor people who asked Mother Teresa for help, two third of them wanted medical care but
one third of those who were taken to facilities died because they did not receive proper medical treatment
. <snip> They
never lacked money
because they received donations from various sectors.
Mother Teresa's unique view on illness and death
made
many patients in facilities die without receiving treatment
.
2.

Mother Teresa was funded by a dubious person and the money was not used for charity activity.
<snip>
3.

"Dark personal connections" and the Mother Teresa Foundation's secret bank accounts
Un-charity activist "dark network of personal connections" is considered the matter in question. <snip>
The Foundation
is said to
have a number of secret bank accounts
,
the money in which
has never been used for charity activity
probably because of fear of revelation.
4.

She spread her theory by treating preferentially an anti-abortion journalist
At the Nobel PrizeAcceptance Speech she strongly expressed anti-abortion and cited an example of a Bosnian woman seeking abortion because she was raped and got pregnant.
She gave a speech: "The greatest destroyer of peace today is abortion. Abortion is war and murder."
Darkness in the world The truth of Mother Teresa 1
*
Actually, only one hospital was built.
*The famous Mother Teresa's Kalighat Home for the Dying Destitutes (NIRMAL HRIDAY= "pure heart") has only 40 beds.
*
No treatment to relieve pain is given
here.
*Patients who suffer are left to lie over one another on dirty beds
*Sisters who have
no medical knowledge
, can't perform a physical examination, and
have no basic knowledge about hygiene take care of patients
.
*
Syringes are used many times and served food is of bad quality.
*The sick die of infection caught in hospital and hunger although there were some deliberated poor people.
*
It is prohibited to transport hopeless patients to a hospital where appropriate treatment is given
.
*
It is strictly prohibited by Mother Teresa for family members to visit patients
.
<snip>
*
When she needed treatment,
she did not receive treatment in the facility she built, and instead
she was shrewdly admitted to Mayor Clinic, which is famous as one of the most eminent hospitals across the U.S.
She received treatment there by profusely using medicine for pain and anesthesia
<snip>
*
A vast amount of donation collected was not used for the sick
but
deposited into her account abroad
.
<The rest is omitted>