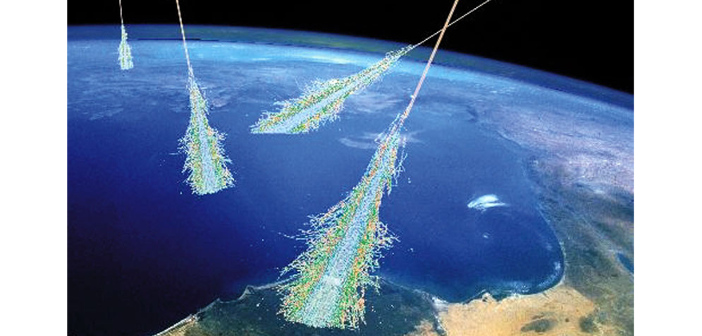 At present, we see a significant decrease in solar activity. According to the article below, "cosmic rays reaching the earth will hit 'the highest level in history' soon." When solar activity is strong, solar magnetic and solar wind bounce cosmic rays and as a result, cosmic rays decrease. However, since solar activity is extremely reduced now, this barrier does not work.
However, the blogger In Deep seems to think that "humanity has evolved in an age when there is excessive amount of cosmic rays" though he admits that it is "his personal belief." I suppose that he is right.
In yesterday's comment I explained that the level of human awakening stands at about 90 percent and to put it in terms of chakra, humanity has awakened up to the Ajna chakra. When Kundalini ascends to the Sahasrara chakra and the chakra is completely opened, it means "awakening."
I predict now that Kundalini (primordial life energy) will reach the Sahasrara chakra at noon on May 1 of this year.
I think that on and after the date humanity will have an experience of the opening of the brain mainly around the pineal body like buds beginning to open.
Ascension is the moment of expansion of human consciousness. It is the phenomenon in which people let the day go by without knowing it unless they are sensitive to this sort of thing. Therefore, I think that most people will let the day go by without knowing it.
A little while after experiencing human awakening on the earth level, people will be able to accept "just what they are." This can be called "enlightenment."
I have roughly explained about the "path to enlightenment." It is highly likely that people who spare no effort to purify themselves by praying Gayatri Mantra and Mantra of Love will achieve enlightenment in the near future. Furthermore, no personal superhuman effort is required under the influence of cosmic rays (radiation) from space. In a sense, we are placed in such an extraordinary situation.
Note:
Shanti-phula has indicated some parts of the following text in black bold-faced type or in red letters.
1.
English translation of an excerpt from a Japanese article:
In Deep
– April 25, 2019 –
Cosmic rays reaching the earth will exceed the "highest level observed" soon
Soon observed the largest ever on record
<snip>
The above news release by NASA was issued in 2009, a decade ago
. In 2009 solar activity was historically weak and
"the cosmic rays observed on the earth were the highest record in history."
The news release reported it.
And according to the article by Space Weather today on April 25, 2019,
"soon, the level of cosmic rays is highly likely to exceed the level observed in 2009."
<snip>
The cosmic ray observation monitor at Oulu University, Finland, which has observed cosmic rays since 1964, shows the 55-year transition of cosmic ray level as follows.
Transition of cosmic ray level by neutron monitor at Oulu University


<snip>
Spaceweather.com April 25, 2019


Cosmic Rays are nearing a space age high
In 2009, a decade ago, NASA reported a "perfect storm of cosmic rays."
During the year 2009, radiation peppering Earth from deep space reached a 50-year high, registering levels never before seen during the Space Age.
It's about to happen again.
<snip>
The cause is related to the state of "Solar Minimum," when solar activity is low in about 11-year solar activity cycle and the sun's magnetic field and solar wind weaken.
Since it is mainly magnetic field that prevents cosmic rays from traveling,
weakened magnetic field of the sun will make cosmic rays easily pass through the solar system. Therefore,
weakened solar activity increases cosmic rays in the solar system.
A panel of experts led by NOAA (National Oceanic and Atmospheric Administration) and NASA recently
predicted that
the current minimum would reach a nadir in late 2019 or 2020
, likely matching the record-setting minimum of 2009.
If they're right,
cosmic rays will continue to increase, with a new record possible in the near future
.
"The situation of solar activity and magnetic field is abnormal, which has never seen in the past."
<snip> Looking at the graph showing the transition of cosmic rays from 1965 to 2019, I get an impression that "the level of cosmic rays reaching the earth has been raised in the 21st century."
<snip>
It cannot be said that it is a "perfect storm" now, but
when cosmic rays further increase and reach the unprecedented level in the future,
the expression "perfect storm" will be available.
At that time,
we should not know what happens to the environment or the human body
(because nobody has experienced it) but it is likely that cosmic rays will have various effects on human body because of radiation.
There is no solid statistics or data on the effects of cosmic rays but according to academic papers, the following information is considered to be reliable:
With an increase in cosmic rays, clouds increase and rainfall increases.
An increase in cosmic rays causes an increase in the generation of lightening.
With an increase in cosmic rays, heart disease (arrhythmia, sudden cardiac death) increases.
This is
my personal belief
that is never scientific at all. However,
my thinking is:
"Humanity has evolved in an age when there is excessive amount of cosmic rays."
<The rest is omitted>