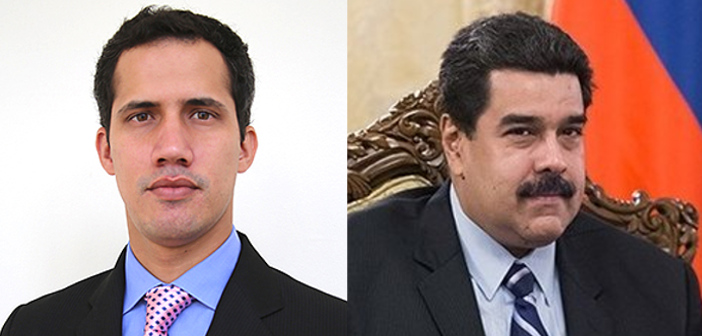 With regard to an attempted coup against the Maduro regime in Venezuela, I made a comment in yesterday's article: "It might be a diversionary operation as usual." However, after reading the articles from Sputnik below and checking them out in detail, I have realized that it is not quite the simple.
It seems to be the true that President Trump wants to establish the Juan Gauido regime by removing President Maduro. As far as I can tell by reading the articles, President Trump wants to carry out an election in Venezuela.
After checking out Mr. Guido, I found that he belongs to President Trump connected to Q group. On the other hand, President Maduro belongs to the Cabal, for which Red Dragon Ambassador in the
article dated January 20
*
said; "currency or NESARA is the Cabal operation" In a word, President Maduro is connected to Cobra Resistance Movement and INTEL.
*Note by Editor: The main portion of the post is
this GoldFish Report interview
.
I have repeatedly pointed out that they belonged to the subordinate organization of the Hierarchy on Earth. Although the Hierarchy has been destroyed, they release fake information and there is no sign that they intend to change the past action plan.
President Maduro is a fervent believer in Sathya Sai Baba. Benjamin Claim pointed out that Sathya Sai Baba played a role as a sort of regent of Sanat Kumara (World Teacher). This is the fact.
Sanat Kumara is Lucifer, which is common sense shared with those who understand Theosophy. The Hierarchy is so-called "Lucifer and army of Darkness." Sathya Sai Baba was, so to speak, the leader of this organization of Darkness.
It is really regrettable to see many people confused by Theosophy and various religions. I have got the impression through the Reformation of Heavenly World that many people destroy themselves by religions. When getting into disturbing situation, most people react with anger without seeing the fact as it is. They burn themselves with the fire of anger.
Note:
Shanti-phula has indicated some parts of the following text in boldface-typed letters or in red letters.
(1)
Declaration of Mr. Guaido as interim president immediately after receiving a call from U.S. Vice President
The Wall Street Journal has reported, citing White House sources, that
Juan Guaido,
President of the Venezuelan National Assembly, received a call from
U.S. Vice President Pence on the day before declaring himself as interim president.
According to sources,
Vice President Pence had promised that the U.S. will support the Venezuela's opposition parties if they take power from President Maduro according to the provision of the Constitution.
Sputnik Japan
According to sources
,
Pence's call to Mr. Guaido made him to carry out a plan, which had been developed behind the scenes over several weeks. Development of the plan was participated by U.S. officials, U.S. allies and key Venezuelan opposition figures, including Mr. Guaido
.
(2)
Spain to recognize Guaid as the interim president unless President Maduro announces to implement a presidential election within eight days
The Spanish government will approve the opposition party leader, President of the Venezuelan National Assembly Guaido who has sworn to assume the interim president.
Spain's Prime Minister Pedro Sanchez announced on the 26th.
Sputnik Japan
"Spain will approve the interim president Guaido if there is no announcement on elections within eight days."
Following Spain, European countries such as the UK, Germany and France issued similar statements
.
(3)
Bank of England refuses President Maduro's request to withdraw $1.2 billion worth of gold, Bloomberg reports
The Bank of England has declined the request to withdraw $1.2 billion (approximately \130 billion) worth of gold deposited by the Maduro regime,

according to Bloomberg report. The measure was taken in response to request to England from

U.S. officials such as U.S. Secretary of State Mike Pompeo and Assistant to the President for National Security Affairs John Bolton

to "drag away" overseas assets from Mr. Maduro.
Sputnik Japan
According to Bloomberg,
the U.S.
is going to send Venezuela's overseas assets to
President of the Venezuelan National Assembly Guaid
who has sworn to assume the interim president to help "bolster his chances of effectively taking control of the government."
The gold equivalent to $1.2 billion accounts for a substantial fraction of $80 foreign currency reserved by the Central Bank of Venezuela. It is not clear where other funds are stored. According to Bloomberg, however, part of them is stored in the form of gold in Turkey. The U.S. tries to persuade Turkey not to serve as a gold depository.
— Maria ⏳ (@ml_maria_) 2019年1月24日
— RT (@RT_com) 2019年1月26日