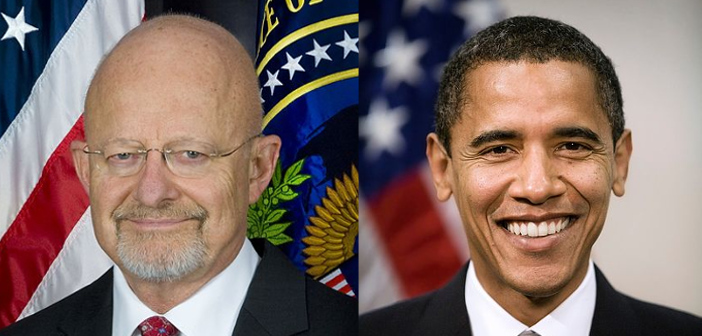 According to the articles below, it appears that the camp of Obama, Hilary Clinton and George Soros is being put into a corner. The first article says that the U.S. military under the Obama administration raised off-the-book funds and high officials of the military pocketed the funds. The article says that the Pentagon is implementing a biometric system in order to prevent such high officials from raising off-the-book money.
According to the second article, former Director of National Intelligence (DNI) James Clapper has revealed that Russia collusion allegations were led by former President Obama. According to Fulford Report (July 23) conveyed through a Japanese article How Alas!, "James Clapper betrayed Obama." Reading the article, we can see that a string of scandals lead to eliminating the Rothschild family. According to the article, "it is just a question of how and when Russia and the U.S. will remove their Rothschild controllers."
As I have commented on this blog, the contents of the article are fit with how I feel about it. I have commented that President Putin and President Trump have decided to expel the Rothschild family from power.
If they lose power, you should know it because the mainstream media would change its coverage. It is likely that everything will be made clear within this year at the latest.
Note:
Shanti-phula has indicated some parts of the following text in black boldface type or in red letters.
Inspector General Reveals Obama 'Paid $300 Million to People Who Don't Exist'
IG John Sopko drops bombshell that Obama was paying $300m in fake salaries
Source:
<snip>
July 21, 2018
<snip>
According to Special IG John Sopko,
Obama wasted at least $300 million on "ghost salaries."
In other words,
he was paying wages to "people who don't exist,"
who were supposedly operating in Afghanistan on the US payroll, far away from the prying eyes of U.S. oversight.
That's more than just fraud.
In fact, according to Sopko,
it's "Major fraud."
<snip>
"Actually I want to say
we heard about it from (Afghan President) Ashraf Ghani years ago
before he became president, he warned me about 'ghosts,' so we started looking three years ago."
"What we're talking about are
policemen, Afghan policemen, Afghan military, Afghan civil servants who don't exist or they have multiple identity cards
and we're paying their salaries.
<snip>
"And we
started finding out
that we had no capacity to measure the number of soldiers, teachers, doctors, military people who we are paying their salaries."
<snip>
"And what's happening is
the commanders or generals or other higher officials are actually pocketing the salaries of the ghosts
.
<snip>
According to the Independent Journal Review, Attkinsson notes that the Pentagon is implementing a biometric system that will be checking fingerprints, photos, and even blood type in order to verify "proof of life" and get rid of the "ghosts."
(The rest is omitted)
English translation of an excerpt from a Japanese article:
Donald Trump NEWS
– July 23, 2018 –
Source:
Obama Is 'Responsible' for Mueller Investigation, Clapper Admits
<snip>
President Barack Obama should be credited
with launching
"a whole sequence of events" that led to special counsel Robert Mueller's investigation of
Russia collusion allegations
,
according to former Director of National Intelligence (DNI) James Clapper
.
Clapper said Thursday on CNN's "Anderson Cooper 360."
"
President Obama is responsible for that
, and
it was he who tasked us to do that intelligence community assessment
in the first place. I think that's an important point when it comes to critiquing President Obama."
(The rest is omitted)
-----
(1)
Naoya Fujiwara
@naoyafujiwara
In a word, outrageous injustice was carried out under the Obama administration
10:44 – July 23, 2018
-----
English translation of an excerpt from a Japanese article:
Sakurai Journal
– July 22, 2018 –
Obama, who has failed to live up to the expectation of Soros, continued invasions and controlled speech
George Soros, investor
, who has played an important role in projects to overwhelm establishments undesirable to American big capital,
expressed his disappointment with Bark Obama
.
It seems that
Soros could not achieve the result he wanted to see although he donated a lot of money to Obama
.
Obama
served as president from January 2009 until January 2017. During his presidency, he
approved a war of invasion utilizing the Muslim Brotherhood in August 2010 and launched a war of invasion into Libya in February 2011 and into Syria in March 2010
. <snip> The Obama administration was characterized by intensified attacks against journalists or whistle-blowers and a drastic increase in the number of documents classified as top secret. They say that more than 92 million documents were designated as top secret in 2011 alone.
In this period, the mainstream media increased dependence on the ruling elite and became a mere source to send fake information.
(The rest is omitted)
-----
(2)
Naoya Fujiwara
@naoyafujiwara
George Soros has realized that he is on the verge of a crushing defeat
9:58 – July 19, 2018
George Soros Bet Big on Liberal Democracy. Now He Fears H…
His enemies paint him as all-powerful, but the billionaire
philanthropist believes that his political legacy has never been in
nytimes.com