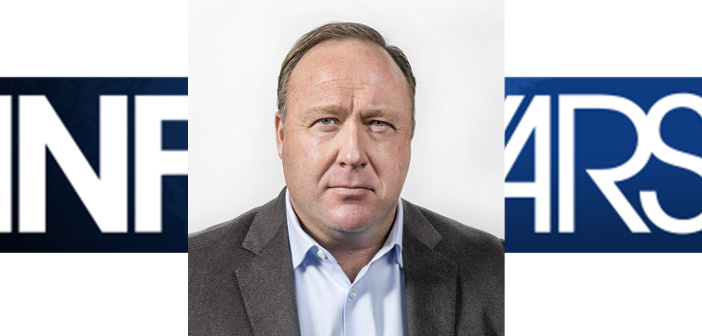 Mr. Alex Jones is globally well-known as a conspiracy theorist. It appears that the information he delivers is very inconvenient to the Deep State. All videos he has uploaded have been removed.
According to Sakurai Journal, "the U.S. ruling elites are switching from information manipulation to suppression of free speech." However, such trial seems to have worked the other way. According to the twitter below, Alex Jone's InfoWars has become third-most popular news site in U.S. The crackdown seems to have increased Alex Jones' publicity.
Mr. Fulford said that most Americans never believe news coverage by the mainstream media. Now, most Americans seem to think that Alex Jones provides the right information.
It is likely that a battle will be intensified before a mid-term election in fall. According to Mr. Eiken Itagaki, the Rockefeller family and the Rothschild family have already been destroyed. The truth will come out by the end of the year.
Note:
Shanti-phula has indicated some parts of the following text in black boldface type or in red letters.
(1)
The Deep State Intends To Destroy Alex Jones –Don't Let Them
Posted by Paul Craig Roberts on August 4, 2018
Fabricated, unwarranted lawsuits are being used in an effort to shut down Alex Jones
who raises too many issues that those who rule us do not want raised.
<snip>
William Binney developed the NSA's spy capability and left the agency over its misuse.
In this interview
you will learn many things, such as the reason that it is strictly impossible that Hillary's emails were hacked by the Russians or anyone else.
<snip>
This is the kind of information that Alex Jones brings to us, and it is the reason the deep state is determined to destroy Alex Jones, just as it attempted to destroy William Binney and still hopes to destroy Snowden and Assange.
(2)
English translation of an excerpt from a Japanese article:
Sakurai Journal
– August 9, 2018 –
The U.S. ruling elites who can't manipulate information are switching to suppression of free speech.
The U.S. ruling elites are switching from information manipulation to suppression of free speech.
They say that they have pressured the Ecuador government which has sheltered Julian Assange, the editor of WikiLeaks, to turn over him to the British authority within a few weeks. Furthermore,
images uploaded by Alex Jones and InfoWars delivered by him have been deleted
. Apple, Facebook, Google Spotify (music streaming service managed by Swedish company) and YouTube are listed up as business enterprises which cooperate in suppressing free speech.
(The rest is omitted)
(3)