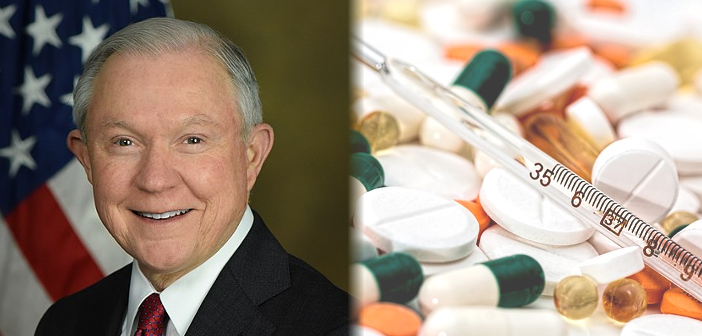 Ms.Yutika picked up the article on vaccination fraud by Big Pharma which was posted first on this blog. According to her, the original article was posted in 2002.
Reading the article, we can understand that it is a deep-rooted problem. It is a well-known fact that researchers who brought an accusation against pharmaceutical firms involved in criminal acts and researcher who promote alternative medicine.
Seemingly, we cannot do anything against such organizational crimes. However, it is not true. The Trump Administration has already announced a declaration of war against medical fraud. On June 28, U.S. Attorney General Jeff Sessions declared the biggest mass arrest of medical personnel in U.S. history. He stated: "We will find you. We will bring you to justice. And you will pay a very high price for what you have done."
Like the article Ms. Yutika picked up, such a big news story has not been reported at all. The Trump Administration has engaged in doing big revolutionary works one after another.
We don't know what President Putin and President Trump really talked about. However, I think that the Rothschild family has clearly become the target of attack.
Note: Shanti-phula has indicated some parts of the following text in black boldface type or in red letters.
Jeff Sessions Orders The Arrest of Top Big Pharma Executives
76 doctors charged for their roles in prescribing and distributing opioids
Attorney General Jeff Sessions has announced the largest ever health care fraud enforcement action

involving the 165 Big Pharma executives and medical professionals for their alleged participation in a $2 billion fraud scheme

.
Of the 162 defendants charged,

there are

76 doctors charged for their roles in prescribing and distributing opioids and other dangerous narcotics for profit

.
"

This is

the most fraud, the most defendants and the most doctors ever charged

in a single operation — and we have evidence that our ongoing work has stopped or prevented billions of dollars' worth of fraud," said Attorney General Sessions.
Here's what you need to know:
1.

The defendants

are accused of

taking part in schemes to submit claims

to

Medicare, Medicaid, TRICARE and private

insurance companies for medically unnecessary treatments or ones that were never provided

.
2. Of the 162 defendants charged for their roles in prescribing and distributing opioids and other narcotics, 76 were physicians.
3.

Attorney General Jeff Sessions and HHS Secretary Alex M. Azar III announced the charges June 28

. It was the largest healthcare fraud enforcement action in American history, which Mr. Azar referred to as "Takedown Day" in the news release.
4.

Since July 2017, HHS has excluded 2,700 individuals from participation in

Medicare, Medicaid and

all other federal healthcare programs

. The agency

excluded 587 providers for opioid diversion and abuse

.
5. In many cases, patient recruiters, beneficiaries and other co-conspirators allegedly received kickbacks for giving providers beneficiary information to help the providers falsely bill Medicare.
The charges

also involve individuals contributing to the opioid epidemic,

with a particular focus on medical professionals involved in the unlawful distribution of opioids and other prescription narcotics, a particular focus for the Department

.
According to the CDC,

approximately 115 Americans die every day of an opioid-related overdose

.
US President Donald Trump recently called for the death penalty of drug dealers

on Monday as part of a massive opioids policy rollout that will target the growing epidemic amongst young people.
A Trump administration official said on Sunday that president's plan to tackle the opioid epidemic head-on as part of the nationwide campaign will be announced in New Hampshire on Monday.
Department of Justice under the Trump Administration to round up and indict massive numbers of medical personnel
BOOM! Trump's DOJ criminally charges 76 doctors, 23 pharmacists, 19 nurses raking in billions in medical fraud to push toxic drugs
U.S. Attorney General Jeff Sessions delivered prepared remarks

, saying, "This year

we are charging 601 people

, including 76 doctors, 23 pharmacists, 19 nurses, and other medical personnel with more than $2 billion in medical fraud.
We

have charged another 162 people

—including 32 doctors—with the illegal distribution of opioids.
One doctor,

explained Sessions,

defrauded Medicare of over $112 million

,

"distributing 2.2 million unnecessary doses of drugs like oxycodone and fentanyl

." <snip> the U.S. health care system is a massive criminal drug racket run by criminal doctors and drug companies who all profit from the mass poisoning of the American people.
"
We are sending a clear message to criminals across the country

," added Sessions. "

[W]e will find you. We will bring you to justice. And you will pay a very high price for what you have done

."