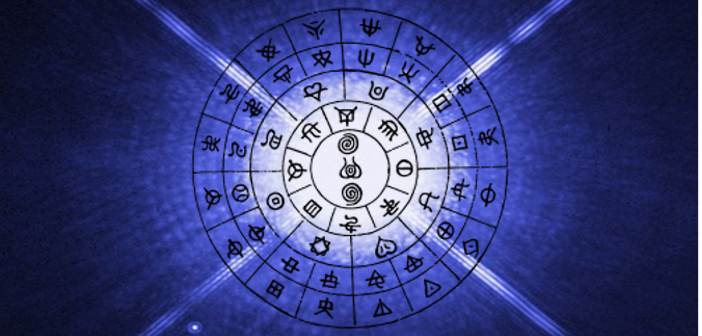 I have already conveyed to you that the heavenly world is governed by deities in Futomani Figure. I gave a simple explanation on Futomani Figure in an article dated December 16, 2014. Please refer to the article.
Our solar system belongs to Sirius System Earthly Deity 5th Level. Selection of 51 deities in Futomani Figure who govern this level has been finally finished.
The phenomenon in which a light ring is created around the sun is sometimes not simply natural phenomenon.
The solar halos in the articles below are revealed by the Linga Sariraof those who have been selected as Misofu Deities (32 deities). It is safe to say that each light is light of blessing for humanity.
Ms. Rajan A-Najar I picked up in the 2nd article appeared in my dream. It was on June 12. She was a very cute girl with short hair. I thought she was a Japanese girl. I had no idea of who she was for a while even after awakening from my dream. Since I read an article about her the day before, however, I realized that she was Ms. Rajan Al-Najar. She had no hatred to Israel and her heart was always with God even in the face of hardship. For this reason, she has achieved rapid spiritual evolution and has been selected as one of Misofu Deities (32 deities). Langgalamu has been selected as the last deity of 51 deities in Futomani Figure. She is the reincarnation of Teresa Teng.
Khanh Ly and Langgalamu are reincarnated in physical form. Therefore, I think unless they have a special ability, they don't realize in physical body level that their evolutionary level has been raised to more than 5.0 and their inner bodies such as spirit body and causal body have been changed into divine bodies.
Let's take Langgalamu for example. She was selected as one of Misofu Deities (31 deities) on Jun 25. If a video of her singing a song after the date is uploaded, her songs should make a big difference between before and after the date.
Probably, her songs after the date should indicate expansion and light.
Shanti-phula has indicated some parts of the following text in black boldface type or in red letters.
English translation of an excerpt from the Japanese version of THE EPOCH TIMES– September 10, 2015 –
Thai girl covered in the news as the reincarnation of Teresa Teng
Langgalamu reputed to be the reincarnation of Teresa Teng

(screenshot)
A 16 year-old Thai girl

who appeared in an audition TV program in China

is a hot topic

in China zone because

she might be the reincarnation of late Teresa Teng, Asian diva, who passed away at the age of 42.

<snip> Teresa Teng died a sudden death in May, 1995. Langgalamu was born in April, 1999, four years after the death of Teresa Teng.
According to her,

she was able to sing twenty-some songs of Teresa Teng although she could not speak Chinese at all when she was seven

. She says: "I can sing her songs after listening them several times, though I can't sing other songs in Chinese."

She can sing her songs in Chinese or in Hokkien. She correctly guessed her private life before her death.
Last year, when she was 15, she went to China to study Chinese. She could not understand Chinese at all. Now she can speak Chinese fluently.
A reporter asked her a question: "Do you think that you are the reincarnation of Teresa Teng?" In response to it, she said: "I don' think deeply about it." She clearly answered: "My dream is to continue to sing Teresa songs."
Distributed by YouTube– December 22, 2015 –
Langgalamu VS Teresa Teng Aijin DUET VERSION
Distributed by YouTube– June, 13, 2014 –
Teresa Teng Airport
English translation of the Japanese version of Pars Today– June 10, 2018 –
Palestine Health Ministry: "Israel army has intentionally attacked medical teams"
Palestinian medic Rajan Al-Najar
Gaza's Health Ministry says: "The Israeli army of the Zionist regime has intentionally attacked the medical teams in Gaza."
According to Palestine Alyoum, Gaza Health Ministry spokesman Ashrav Kudra reported the martyrdom of the two members of medical team who engaged in rescue activities for people injured in the protest called "the Great March of Return" by the Zionist regime army as well as the injury of 230 people.
The spokesman Ashrav Kudra also said: "40 ambulances were attacked by the Zionist regime in the peaceful medical activities."
He also emphasized: "Members of medical team in Gaza stick to continue to carry out humanitarian duties to Palestinians."
Recently,

Ms. Rajan Al-Najar, a Palestinian nurse, was martyred after she was shot by the Zionist army while she engaged in rescue activities of participants in demonstration march near the border in Gaza.
— 板倉美聡@ヨルダン (@Misato04943248) June 12, 2018
Misato Itakura@Kenya
*A rescue staff of the partner organization she worked for as a medical intern.
She ran to the injured while appealing she was not armed with both hands up, but
She was shot in the back by an Israeli sniper, who was 30 meters away.
*Translated by Shanti-phula
English translation of an excerpt from a Japanese article: Kokopellinas' Wind– June 22, 2018 –
Solar halo seen on the very day of the summer solstice
It was the summer solstice yesterday. When I realized in the afternoon that it was the summer solstice, I looked up at the sky.
It was cloudy but I found a wispy solar halo.
The light became stronger while looking up at the sky for a while.
Finally a beautiful solar halo appeared!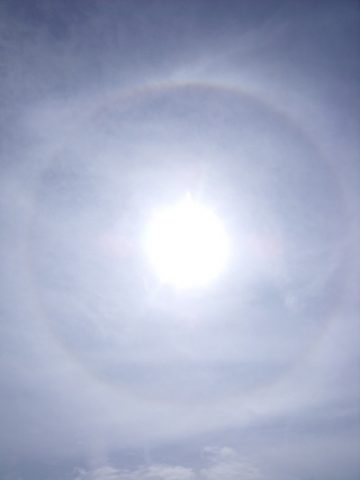 Shooting at 3.38 p.m. on June 21, 2018
Khánh Ly
Khánh Ly

(6 May 1945 in Hanoi - ) is a

Vietnamese singer

and a columnist.

She rose to fame when she sang a song

"DIEM XUA" written by Vietnamese composer Tr

ị

nh Công S

ơ

n

.
Distributed by YouTube– February 6, 2015 –
Diem Xua – Khanh Ly – Trin Cong Son
English translation of an excerpt from a Japanese article: Mariya's Kaze– May 23, 2018 –
Customer of Mariya's Kaze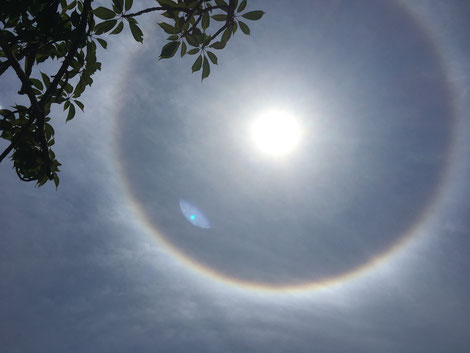 I rode on Mariya around noon yesterday …
I wondered if something like apocalyptic event had happened.
I was really stunned to see the sun!
Thomas Mann
Paul Thomas Mann

(6 June 1875 –12 August 1955)

was a German novelist.

He was born to a bourgeois family in Lübeck.Mann attended the science division of a Lübeck Gymnasium (school). After his first novel "Gefallen" was recognized, he started his career as a writer. In 1901 he published "Buddenbrooks", which portrayed his own family and class. Subsequently, he published novels about artists such as "Tonio Kröger" and "Death in Venice" and Bildungsroman "The Magic Mountain." Mann was

awarded the Nobel Prize in Literature in 1929

.
Photographed in 1949 when he visited Weimar
5.Gigantic circle of light around the sun? Mysterious phenomenon is on the news
May 8, 2018 By Yoshinori Doi –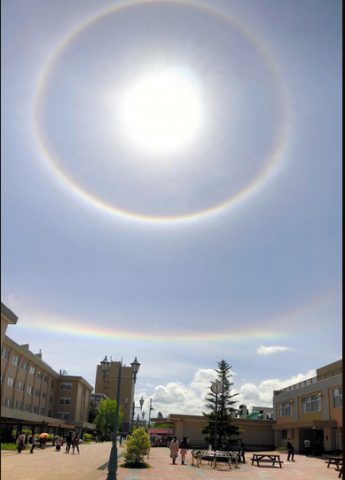 Around at noon on 7, a belt-like "circumhorizontal arc" and a "halo phenomenon" where light ring seems to be formed around the sun were observed. A lot of comments were posted on Twitter and the photo was on the news.
English translation of a Japanese article: NAVER Matome– February 9, 2017 –
Chronological list of good actresses in the history of cinema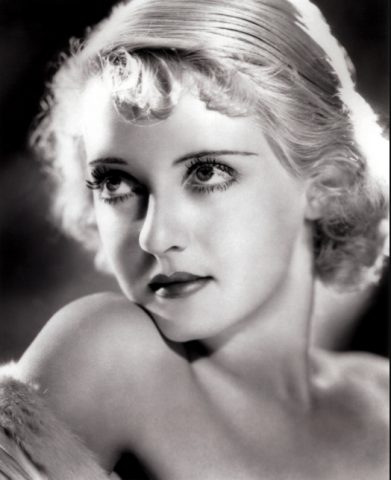 "Of Human Bondage" (1934)
"What Ever Happened to Baby Jane?" (1962)
She has the highest respect for her acting ability in the
Hollywood movie history and she is a great actress who represents the golden age.