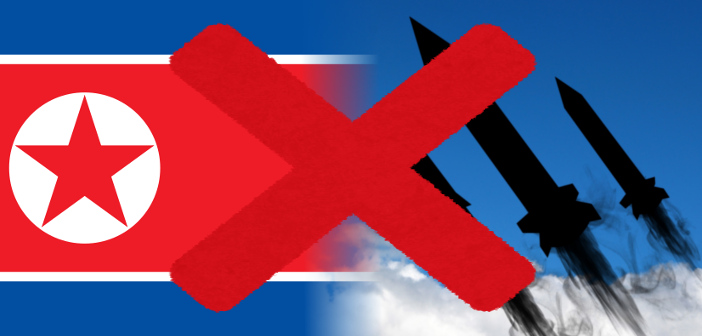 Abepyon has tearful eyes because he has been disregarded by President Trump. Kim Jong-un's remarks about "cancellation of nuclear and ICBM experiments has been the final nail in the coffin. Besides, Kim Jong-un says that he will liberate three detained Americans.
If North Korea does not launch a missile as a villain, it would cause inconvenience to Abepyon who ardently wishes for constitutional revision. J-ALERT emergency warning and evacuation drill in which people lie down with their heads in their hands would be up in the air.
Every time a missile was launched, the Abe administration fomented sense of crisis. We have often pointed out on the blog that negotiations for a peace treaty between the U.S. and North Korea and the unification of South and North Koreas have been in progress behind the scenes by Dr. Kissinger and that the North Korea crisis is a political farce. I find it impossible to think that Abepyon really regarded North Korea as dangerous because his true enemy is China.
Abepyon has steadily prepared for war against China based on an old scenario of Japan handlers. However, preparation for global peace has been in progress behind the scenes. It is Abepyon who has never recognized such global trend.
In a series of Twitter below, this story is expressed in a humorous way.
Shanti-phula has indicated some parts of the following text in black boldface type or in red letters.
Distributed by YouTube – April 21, 2018 –
Kim Jong-un: "North Korea no longer needs nuclear tests and ICBM launches" (April 22, 2018)
English translation of the Japanese version of
Sputnik
– April 21, 2018 –
The Wall Street Journal quotes North Korean officials as saying that

North Korean leader Kim Jong-un has made a suggestion to U.S. President Trump

that

it will release three Americans

held

by North Korea when a U.S.-North Korea summit meeting takes place.
According to the WSJ,

release of detained Americans will be the top priority to the U.S. in the summit.

According to sources,

CIA Director Pompeo, the U.S. secretary of state nominee, gained assurance about release of the Americans from Kim Jong-un during his visit to North Korea.
According to the WSJ, one of the three Americans is Mr. Tony Kim, (62 years old). He was detained on suspicion of spying and stealing national secrets in 2016. Mr. Kim, from Virginia, was sentenced to 10 years of hard labor on charges of access to classified documents on North Korea military nuclear programs.
Another is Mr. Kim Hak-song. He was trying to board a plane to leave the country when he was arrested in April 2017. Mr. Kim Hak-song had been teaching at Pyongyang University of Science and Technology. The other is Mr. Kim Dong-chul, who had also been teaching at the same university, was arrested in May 2017. The cause of their arrests has not clarified.
Today's "Eiken Itagaki Information Agency"
Prime Minister Shinzo Abe was shell-shocked to hear that the Emperor, Mr. Ichiro Ozawa and Dr. Kissinger had been key players for "North-South summit and peace treaty between the U.S and North Korea"
In the morning on April 21

Prime Minister Shinzo Abe

hosted an out-of-season "Cherry Blossom Viewing Party" at Shinjuku Gyoen in Tokyo

where the trees started to sprout new leaves after

cherry blossoms had fallen

. If we dare to watch cherry blossoms, we could see "Ubazakura" (a mature but still attractive woman) Mrs. Akie Abe, who had visited the U.S. together with PM Abe after escaping house arrest. In a summit meeting with U.S. President Trump, PM Abe was shell-shocked to hear that

CIA Director Pompeo had secretly visited North Korea

to make an arrangement for U.S-North Korea summit meeting, negotiations for "South-North/U.S.-North Korea peace" had been rapidly in progress, and

the Emperor, Mr. Ichiro Ozawa and Dr. Kissinger had been key players behind the scenes

.

Therefore, it was obvious to everyone that Prime Minister Shinzo Abe and Mrs. Akie Abe would fall last.

Additionally,

North Korean leader Kim Jong-un

expressed his view to stop nuclear tests and launches of ICBM from 21 and demolish a nuclear test site

. Although negotiations for "South-North/U.S.-North Korea peace"

have started to move toward the "unification of the Korean Peninsula"

, PM Abe seemed to feel sorrow anew because he knew that he had been "kept out of the loop."