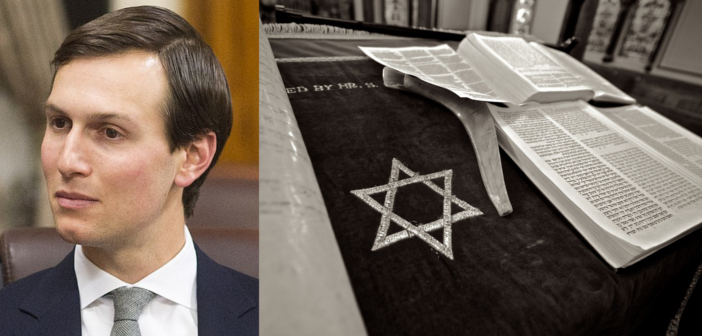 Important information on Mr. Jared Kushner, husband of Ivanka Trump, is available in the Fulford report below. I think that what is written in the report is true. Although Mr. Fulford sees Mr. Kushner as a Satanist, I don't agree with him.
One thing I can say for sure is that Mr. Kushner never seems to carry out an Illuminati Satanic ceremony. If he actually had done so, his soul (Jiva) must have already disappeared.
I think that Mr. Kushner is not a Zionist because he is a follower of Orthodox Judaism. He is part of a group of people who think that current secular Israel should disappear in order to have the Kingdom of God come out. I think that they might accept Armageddon (final world war) to destroy Israel.
The problem is that there are some fanatic people who try to hasten the arrival of Kingdom of God by turning the Biblical prophecy into reality with their own hands. Reading the Fulford report below, it is highly likely that Mr. Kushner was one of them.
It sounds like a fanatic and ridiculous idea to me. In my view, they never think they do evil, but rather they might believe themselves as angels or disciples who have been dispatched to Earth in order to realize the divine plan.
I claim that quite a lot of fanatics on Earth and aliens involved in the earth get such a ridiculous idea.
As you can tell from the message, Cobra RM (Resistance movement) has connections with a group of Pleiadians. They are exactly the fools I have just told about.
The problem is that earthlings who mistakenly perceive Cobra information as information from pure Light are included in such group. They are part of Evil and take part in destroying Earth, though they believe they are Light workers.
I have given a waring many times on the blog. Unless those involved abandon such fanatic and ridiculous idea, it would soon result to serious consequences to them. As I warned yesterday, some of them have been executed.
Shanti-phula has indicated some parts of the following text in black boldface type or in red letters.
Excerpt from a Japanese article: How Sad! – April 17, 2018 –
The insane religious-fanatic Zionists who have been trying for years to start Armageddon have failed yet again in their latest attempt, this time in Syria. <snip>

We will just look at what U.S. President Donald Trump's son-in-law Jared Kushner has been up to.

The Kushner family bought a building on 666 Fifth Avenue in New York

at way above market prices.

<snip>

we can confirm that

Lucent Technologies was based there and was developing an implantable RFID chip.

<snip>

We must also remind ourselves that

Kushner is a member of the radical Chabad sect that aims to have 2,800 slaves for each of its followers after the rest of humanity is killed.
First, take a look at the photograph in the following link of Trump meeting with Chabad leaders on March 29th:
Reprint from the Japanese version of Sputnik – April 18, 2018 –
Barbara Bush, wife of former U.S. president George Bush, died on 18.
She was 92. Reuter reported the news.
According to earlier report, Barbara had not been hospitalized though she was in failing health.
It was also reported that Bush had been battling chronic obstructive pulmonary disease in recent years.