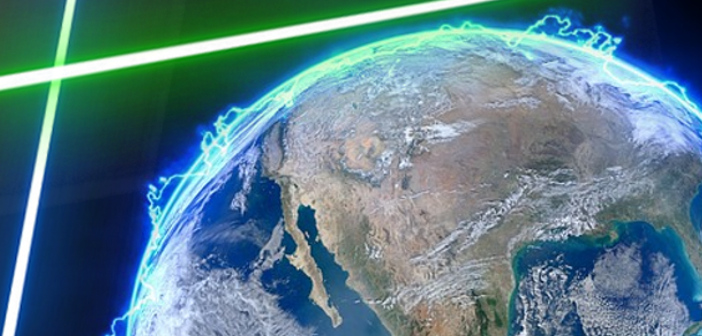 According to the first article, a meteor hit Detroit on 16 and such incident is happening all over the U.S. We can understand that this is not a mere meteor because "a laser beam is coming down from the sky." A woman, local resident, posted an image of spaceships on YouTube but it was deleted soon.
It appears that a space war on low Earth orbit has occurred. It is a war of the Earth Alliance versus the Secret Space Program (SSP) by the Cabal. The overt Illuminati and the covert Illuminati participate in the SSP. I think that Hawaii false missile alert due to a malfunction of missile warning system is the incident where the SSP by the covert Illuminati got involved.
I think that the Earth Alliance will achieve a landslide victory. I think that the Galactic Confederation did not get involved in this space war, because the Earth Alliance can cope with it without intervention of the Confederation.
The cleanup operation will be finished before long. It will be followed by extermination of the Illuminati on Earth. They will have no other choice but to accept unconditional surrender to survive.
Shanti-phula has indicated some parts of the following text in black boldface type or in red letters.
What hit Detroit, meteor or laser weapon?
According to Mr. Jonathan Miller who posted this video,

this phenomenon (something like meteors hit the earth with loud nose) is happening not only in Detroit but all over the U.S.

A lot of people

witnessed laser beam coming down

. He says that they are not meteors but directed-energy strikes. It is said that laser beam burned trees and heated the ground in recent fires in California.
With recent rocket activities in the sky, a lot of satellites have been launched. There is

a secret war going on

that have not been known to the public
(Note)* Most part of the article is quoted from the original article.
Update: What is the meteor which hit Michigan? What is laser beam?
FOLKS, THERE IS SOME EFFED UP STUFF GOING ON RIGHT NOW
The pictures are genuine,
there are many others of this same event from different angles.
For the record, there was a real meteor in Michigan last night, but this is an event that is separate from that meteor. CONFIRMED:

This city, Taylor Michigan, where the beam is coming down was visited by presidents Bush, Obama, and Clinton

.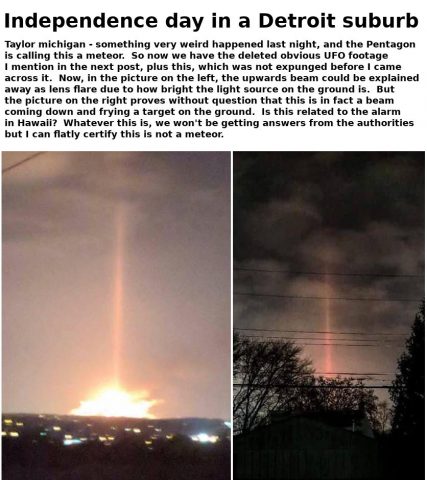 (Laser beam is coming down toward Taylor)
Without question

something was in Taylor

that drew the attention of three consecutive presidents, and

it probably just got fried.
There was a video of

spacecraft flying back and forth.

It was caught on a security camera a woman had set up at her house

.
The Pentagon declared it to be a meteor.

There is something going on in space right now,

and I'd bet

it is related to the missile alarm in Hawaii

.