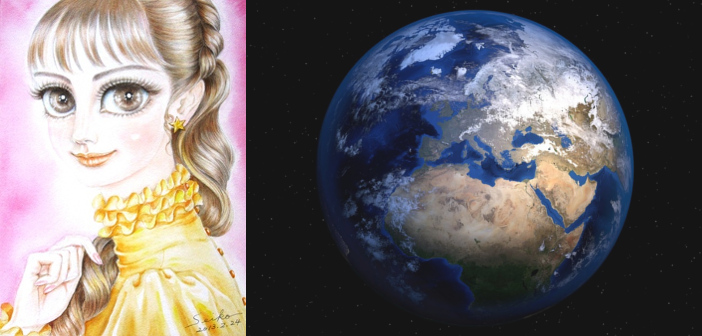 I have found an interesting article in Sputnik. The article says that a cute girl named Earth-Chan is a big hit on the Internet. Speaking of Earth, we have tended to put so much emphasis on the aspect of "Mother." With this illustration, however, the planet Earth has been depicted as a "young girl" for the first time. I feel that the person must have got inspiration.
Mrs. Seiko Nakanishi drew an illustration of the Linga Sarira of Earth. Her Linga Sarira is 10 years of age and her official name is Hanatachibanano-himemiko-sama. Her nickname is Saotome-chan. I personally met her and she looks a lot like the illustration drawn by Mrs. Nakanishi.
When I see an illustration of Earth-Chan at the top of the article, I think that it is a well-created illustration. According to the article, Earth-Chan is a "young girl attending school." This is also a fact. She and her twin soul Utukushiki-shirabeno-himemiko-sama are pupils of my school in the heavenly world.
(aka Saotome) [Earth, 10 years of age] <Linga Sarira>
Shanti-phula has indicated some parts of the following text in black boldface type or in red letters.
English translation of an excerpt from the Japanese version of Sputnik – December 28, 2017 –
Earth-Chan becomes the best eco meme on the Internet in 2017 [photo]
This is Earth-Chan. Nice to meet you. This is the eco meme which has run rampant on the Internet this year, which

depicts a cute young girl living on the earth

.
A Twitter user @Trinimmortal hit on an idea for depicting the planet Earth as a girl.

@Trinimmortal proposed that someone should make an anime where

Earth

is a cute girl in a NASA T shirt

attending school

with hair dyed in the colors blue and green.
​
— Koustav Halder (@7anbuKakashi) 2017年12月21日
@Trinimmortal thinks that Earth-Chan has a complex about her smaller chest. Earth-chan often screams: "I'm not flat!"
— Pooken_Okakura 岡倉ぷぅ軒 (@roninworks) 2017年12月23日
I examined Earth-Chan closely. I had thought that "I'm not flat" is a story about the Copernican theory. I found that the phrase is related to the size of her chest!
This joke has actively used on SNS as "flat earth theory."
— Just Some Anime Tweets (@NotAnAnimeWeab) 2017年12月22日
Earth-Chan is not only bothered by her complex about her smaller chest but also

she is displeased with humans living on her. She wants them to leave her.
— Earth-Chan (@BestEarthChan) 2017年12月26日
"Earth-Chan, I'm afraid that your hair is infected with people. It could get worse if not taken care of. So I'm going to prescribe you this shampoo."
"What do you mean by "No"?"
Earth-Chan is a big hit among Internet users.
Earth-Chan related comics and pictures are distributed in large quantities in the market.