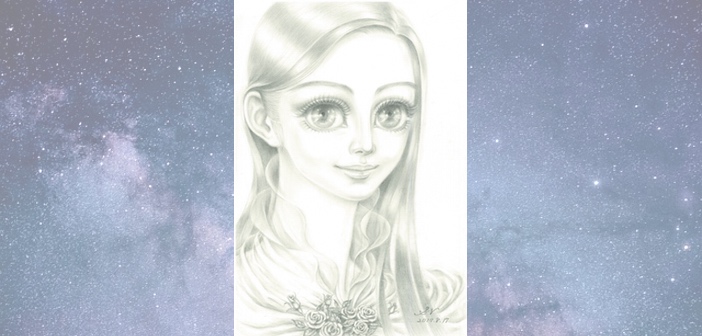 Illustration of causal body of Harukanauchnohikarino-himemiko-sama (Ironoehime-asako- sama)
Mrs. Seiko Nakanishi has drawn an illustration: the causal body of my wife Harukanauchunohikarino-himemiko. Her former name is Kagayakiwataru-ureshikimiya-himemiko (Ironoehime-asako). I revealed our name change in an article dated January 1, 2017.
In this article I post this illustration together with the illustration of her Linga Sarira which was drawn by Mrs. Nakanishi in the past. You must realize that the two illustrations show the same person (the same deity). First, try to feel the whole body, and you must realize that you tune into the illustration of Linga Sarira. Secondly, try to slightly feel the backbone, and you must realize that you tune into the illustrated causal body. When you tune into the illustrated causal body, subtle light would enter from the Sahasuraha chakra on the head.
You would be relieved if you could feel this way. It provides evidence that your causal body remains and your soul has not been destroyed.
In an article dated January 2, I describe our causal body exists in 903 D, correctly in 903.9 D and our Linga Sarira exists in 843.9 D.

On the other hand, the spirit body drawn below in this article exists in 183.9 D.
Aliens who have come to our solar system have the world view which stays within the framework of 3.0 D to 3.9 D.

Aliens who come to Earth exist basically in 3.0 D to 3.3 D and they have no means of confirming these facts.
I think that my plasma body seems to be an invisible presence to their eyes, because my plasma body exists beyond the dimension of the universe they grasp.
(Ironoehime-asako sama , 16 years of age) <Causal body>