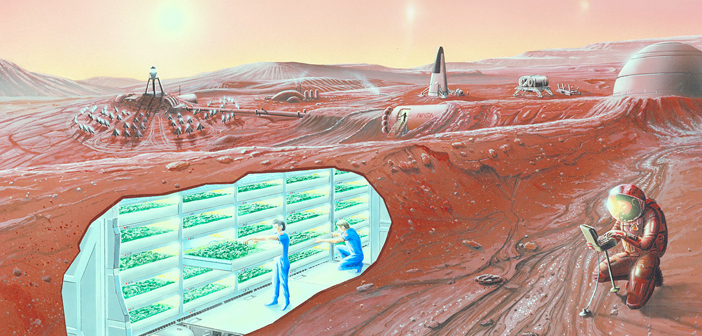 The information disclosed by former CIA office, Mr. Robert David Steele – "Children are kidnapped to Mars for use as sex slaves of pedophiles" – is introduced on an article on July 4. The first article below is a brief summary of the article. Reading the article, we understand that Mars has already had a colony and forced labor and massacre by the Illuminati is carried out on a daily basis.
Mr. Corey Goode has released voluminous amounts of information about the Secret Space Program (SSP). He says that the Secret Space Program is carried out by the Cabal (Illuminati) and there are more than 100 bases in the Solar System, in some of which as many as 100,000 people live.
According to him, the Illuminati carry out massacre and slave trade with aliens on a daily basis. I think that these two articles prove that the information disclosed by Mr. Corey Goode is true.
I find the second article interesting. It says that "a Mars base" is filmed on Google Mars. The base does not look like

a composite photograph

. It seems that at least the editorial desk of TOCANA confirmed the existence of this Mars base on Google Mars. According to the original article, the "editorial desk has realized the appalling fact no other media in the world have not realized" and they have seen inside the facility on Google Mars with Street View.
I wonder what we think about this. Is it part of intentional release of information? If so, I am sure that the remarks of Mr. Robert David Steele disclosed after the image on Mars was revealed bewildered NASA.
Mr. Corey Goode says that those involved in the Secret Space Program have unexceptionally "committed unforgiveable evil."

The article would enable you to make a good guess as to what it is.
Shanti-phula has indicated some parts of the following text in black boldface type or in red letters.
The world is shocked by whistle-blowing by Former CIA officer: "Children are kidnapped for use as slaves"

NASA official comment leads to an uproar
Former CIA officer, Mr. Robert David Steele had a guest appearance on
a popular radio program

"Alex Jones Show,"

broadcast by more than 100 AM/FM radio stations across the U.S.
"

There is a colony on Mars that is populated by children who were kidnapped and sent into space on a 20-year ride

, so that once they get to Mars colony, they have no alternative but to be slaves on the Mars colony." (Mr. Steele)
According to him,

enslaved children were not only forced to work or held in sex slavery for pedophiles but also they were murdered in large numbers to collect blood and bone marrow from them.

<snip>
NASA, which usually turns a deaf ear to these conspiracy theories, immediately issued a rare comment.

<snip>

It does not serve to put out fire; on the contrary it helps NASA's suspiciousness stand out.
English translation of an excerpt from a Japanese article: TOCANA – June 26, 2017 –
[Appalling] Genuine artificial facility has been built on Mars!! Clearly filmed on Google Mars, former Self Defense Forces member immediately makes a comment
It turns out that

something outrageous has been installed on the surface of Mars

. It causes a shock to the world. They say that

a genuine "Mars base" was filmed on Google Mars

.
This is a building on Mars satellite map "Google Mars" provided by Google. It is never Earth-made. If you can't believe it, I want you to confirm by visiting the link.
Black arrow indicates the base in question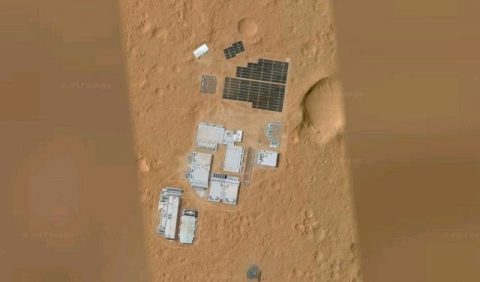 As usual, NASA keeps silent. Considering this response, it is reasonable to think that the image, which was supposed to be released in some time or other, was mistakenly released.