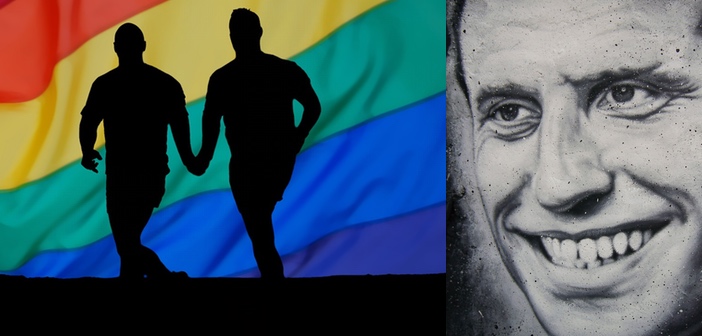 They say that a man in the baseball cap standing on the stage directly behind Mr. Macron is getting public attention. According to the article, this man is a "pizzeria owner" named Morgan Simon. Only this reminds us of a very disgustful event. Everybody must image the PIZZAGATE scandal. It strongly suggests that Mr. Macron is not an ordinary man. I think that Sputnik probably picked up this article from this point of view.
Sakurai Journal gives a very simple and excellent summary of the French presidential election. Reading the article, you will know that Mr. Macron has strongly pushed ahead with a neoliberal policy under the Hollande administration. The French people hate such Hollande's policy and seek a reformation. This is symbolized by the rise of Le Pen. The ruling elite led by the Rothschild family who felt a sense of crisis regarding the people's move seem to have succeeded in deceiving people by putting a changed tag on Macron. According to the article, the "media used an image strategy; they put a tag of "middle-of-the roader" and "extreme right-winger" on Macron and Le Pen, respectively.
It seems that most French people have been completely taken in by this strategy. I often see Japanese tweets which say: "I feel relieved to have a middle-grounder chosen." They identify Ms. Marine Le Pen with Japanese internet right-winger. Actually, Ms. Le Pen should be called a "real patriot" and she is never a pseudo right-winger like Japan Conference members. Mr. Macron, by contrast, is not middle-of-the-roader but a globalist. Speaking more definitely, he is a puppet of the Rothschild family.
The French people have elected a successor to Hollande as the next president though denying the Holland administration. What an ironic outcome! While seeing the French presidential election, I was struck speechless to learn how easily deceived the people are. Earth is exactly the battlefield between "underground people and worst people." Underground people mean the ruling elite (globalists) and the worst people mean ignorant people. Underground people have skillfully deceived the worst people for now.
The third article is about the Mr. Macron's scandal leaked by WikiLeaks. The French people have been elected an outrageous person as president-elect. I imagine that probably a pedophilia scandal will be leaked sometime soon.
Shanti-phula has indicated some parts of the following text in black boldface type or in red letters.
Reprint from the Japanese version of Sputnik – May 8, 2017 –
Macron's Spotlight Stolen by Mysterious Man Becomes Social Media Hit (VIDEO)
A young French activist suddenly became one of the most vividly discussed people among French social media users
.
The newly elected French president Emmanuel Macron when the latter was singing "Marseillaise" in front of the Louvre right after the preliminary results of the election were announced on Sunday.
People watching the performance paid attention to

a man in the baseball cap

, who was

standing on the stage directly behind the politician

and singing the French anthem along with him.
This man immediately named "baseball capman" was talked about a lot on SNS.
— Adrian (@majormoore) 2017年5月8日
— Le Parisien (@le_Parisien) 2017年5月7日
As French media found out,

the man is Morgan Simon, a 31-year-old pizzeria owner

from Nantes.
He explained that

he was on the stage as one of the activists

of Macron's "En Marche!" party and took the place behind the politician because he saw that it was available. The man added that he always wears a baseball cap and he didn't think about taking it off while singing the anthem.
The above article is mostly quoted from:
English translation of an excerpt from a Japanese article: Sakurai Journal – May 9, 2017 –
Macon, a successor to Hollande and a servant to huge capitals, has been elected as president-elect on May 7 election
In the second round of voting of

French presidential election

on May 7,

Emmanuel Macron defeated Marine Le Pen

. Macron was a member of the Socialist Party from 2006 to 2009.

In 2008 he started a carrier in Rothschild-affiliated bank.

He is said to have gained high salary of two million euro.
From 2012 to 2014, he served as deputy secretary-general of the Elisee in the Francois Hollande administration.

When he assumed the post of Minister of Economy, Industry and Digital Sector in 2014, he pushed ahead with a neoliberal policy, which helps big corporations make profits

and Macron's boss Hollande joined the invasion policy of the U.S. government.
Since

the French people increasingly hated the Hollande administration

, Macron judged that

it was impossible to continue to implement Hollandatic policy

while being close to Hollande.

Then Macron tried to deceive people by putting another tag on him

and he formed a new party "An Marche! (On the Move)" in April, 2016. His plan seems to have been successful.
Probably Marine Le Pen was the candidate in the presidential election who was most disliked by the ruling elite in France and the U.S.

The media used an image strategy

: they

put a tag

or talisman

of "middle-of-the roader" and "extreme right-winger" on Macron and Le Pen

, respectively. This is the tactics used by sorcerer. As a result,

a successor to Hollande has been elected as president-elect.
New President Macron is drug addict, homosexual and alcoholic
Macron emails lead to allegations of drug use, homosexual adventurism and Rothschild money
The information in leaked emails which Wikileaks now claims are authentic, is damning.
French Presidential candidate Emmanuel Macron may not be the boring ex-Rothschild banker turned aspiring war criminal. Wikileaks has thus far been able to verify the majority of Macron leaks as authentic.
Leaked emails have shown an alleged conspiracy to

cover-up drug deals

procured by senior Macron campaign manager Alain Tourret.
Tourret ordered 3-Methylmethcathinone also known as MMC-3, a drug France classes in the same category as heroin. The drugs were paid for in the Bitcoin crypto-currency and shipped to government addresses.
An email
from a man called Raphael Colhoun who works closely with Macron sent an email to an associate

containing the single phrase, ""don't forget to buy c. for the boss"

.

'c.'

is considered to be

an aphorism to the dangerous drug cocaine

.
Emmanuel Macron is thought to have directly received emails from a web service called VestiareGay.
<snip> a user must 'opt-in' to, meaning a prankster could not have signed Macron up to the service as it would require first hand verification.
French magazine 'Closer'
is in possession of photos showing Macron with a man he has engaged in a relationship with. This will do nothing to quash the rumours.
It is a pity that

France will get a man who allegedly engages in nefariously dishonest behaviour

when they could have had a woman who favours peace and reconciliation.