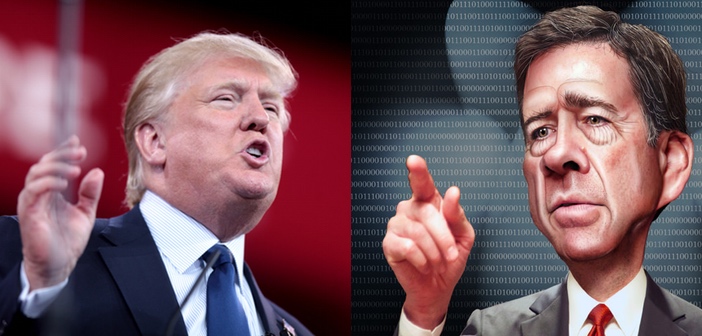 President Trump dismissed FBI Director James Comey. Reading the articles from top down, you will understand well that the media considers dismissal of Comey to be "interruption of FBI investigation on Russian involvement during the presidential elections. In other words, the media reports that the dismissal is to obstruct the investigation on Mr. Trump's Election Commission's contact with Russia by an increased number of FBI investigators.
However, Russian interference in election, which is baseless accusation, is of a problem. The testimony of Mr. Julian Assange, the founder of WikiLeaks, shows that there can be little doubt that this is the manipulation of information by CIA. Common sense tells us which you believe, information from Mr. Assange or information from CIA. Information from Mr. Assange has never been wrong.
According to Sakurai Journal, "political interference in investigative organization is not desirable, <snip> but appointment of Comey as FBI director itself was political." Sakurai Journal seems to positively accept the dismissal of Director Comey who does not seek to clarify the truth but makes politically motivated move." I take the same stance as Sakurai Journal. My opinion is that dismissal of Comey was too late. However, it may be said that President Trump made a timely decision because there was no possibility of Anti-Trump color revolution. In short, the Trump administration has "made a declaration of war on globalism" by dismissing Director Comey.
Reading the third article, you can see the true reason why Director Comey was dismissed. President Trump has started reinvestigating Hillary Clinton and he is "finally purging the Deep State."
In the last article, the last paragraph reads an apology for posting wrong opinion that President Trump was taken over by the Deep State. Previously, I commented that Kissinger deceived the enemy and even the friend with genius strategy. You can see now that it was the truth.
Shanti-phula has indicated some parts of the following text in black boldface type or in red letters.
Distributed by YouTube – May 9, 2017 –
English translation of the Japanese version of Sputnik – May 11, 2017 –
Why President Trump dismissed Director Comey?
President Trump dismissed Federal Bureau of Investigation (FBI) Director Comey (56).
According to the White House statement, the president
accepted the recommendation of the dismissal of Comey from Attorney General Jeff Sessions.
Former presidential candidate Hillary Clinton blamed Mr. Comey for her election loss.
Then FBI Director Comey announced reopening the investigation of Mrs. Clinton case immediately before voting started. In a hearing of the Senate Judiciary Committee held in April then FBI Director Comey removed the suspicion and testified that he could not help but announcing the reinvestigation.
Mr. Edward Snowden
made a comment on dismissal of Mr. Comey as FBI Director: Every American should condemn such political interference in the Bureau's work."
Mr. Snowden

tweeted

: "

This FBI Director has sought for years to jail me

on account of my political activities.

If I can oppose his firing, so can you.

"
English translation of a Japanese article: SakuraiJournal – May 11, 2017 –
FBI Director James Comey was dismissed on May 9. Generally speaking,

political interference in investigative organization is not desirable

but it is also a fact that

investigative organization or intelligence organization is a political organization to provide protection of the interest of the ruling elite.

Appointment of Comey as FBI director itself was political.
The FBI
where Comey who hates Russia, wants war and has close ties with the neocons had worked

has investigated the Hillary Clinton's e-mail problem

.
Clinton and McCaine are included in a group which tries to launch a war using fake information.

Clinton

was highly suspicious of having used her private server

for official communications when she was secretary of state.

The FBI < snip>

reached the conclusion that she handled

such information

so carelessly

.

And yet, Director Comey decided to dismiss a case against her.
Although the FBI gave a reason for the decision, saying that Clinton deleted e-mails, all e-mails are recorded by the NSA. That's not the reason. It seems that there was such criticism inside the FBI.

On October 28, 2016, reopening of the investigation was declared. To close the investigation, however, was declared two days before voting day. Comey was a director who was close to the neocons or the war business and made politically motivated move.
Dismiss of FBI Director Comey to release documents on the Clinton investigation and open reinvestigation!
In the wake of Donald Trump's dismissal of FBI Director James Comey, the FBI intends to begin releasing documents on the Clinton investigation and the Department of Justice may request a second look at the investigation.
This afternoon,

the White House announced

that James Comey would be removed as Director of the FBI upon the recommendation of Attorney General Jeff Sessions and Deputy Attorney General Rod Rosenstein

.
Upon news of Comey's removal,

Julian Assange tweeted that a source within the FBI had informed him that the Bureau would begin leaking documents from the investigation.
The Deputy Attorney General will now oversee a new Clinton probe
following Comey's dismissal, and would do so in close proximity to acting FBI Director Andrew McCabe for lack of trust.
Excerpt from a Japanese article – Trend of Japan, World and Universe – May 11, 2017 –
Trump Is Finally Purging the Deep State
"
Top Clinton aide, Huma Abedin, and Anthony Weiner are under intense scrutiny from the Attorney General's office.
At the center of the controversy is the delicate subject of

child-sex-trafficking

. Attorney General, Jeff Sessions is putting away child sex traffickers faster than one can blink.

Weiner and his wife, Abedin are next on the investigative trail

.
Breaking news from

the evening of May 9, 2017, at least five members of the Environmental Protection Agency's Scientific Advisory Board have been fired.
One cannot overstate the importance of this event. Climate change is one of the sacred cows of the globalists.
This is

an absolute declaration of war being declared by the Trump administration

on globalism

. The Deep State is being purged.
Did you see where the Philippines just put away 300 online traffickers, yesterday? And people wondered why Trump recently met with Philippines President Duterte?
Expect more arrests this summer, from what I have been told.
I must apologize to our President. I had written off his presidency.
His days as President are numbered as the three options to remove him from office are still very much in play (i.e. impeachment, 25th Amendment removal and assassination).