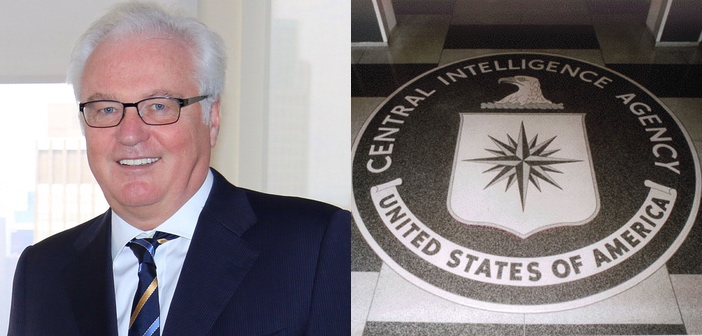 Reportedly, Russian Ambassador to the UN Churkin has suddenly died in New York. Intuitionally, I think he has been assassinated.
In the third article below, Foreign Minister Lavrov criticizes the U.S. for tapping by the U.S. intelligence agency. Probably, Ambassador Churkin possessed the information very inconvenient for the CIA. Two Russian ambassadors have been killed, including the incident in Turkey. Taking the death of Kim Jon-num into consideration, we really understand that the Cabal has got so panicky that they try to grasp at any straw.
Shanti-phula has indicated some parts of the following text in black boldface type or in red letters.
Russian Ambassador to UN Just Passed Out and Died of an "Apparent Heart Attack" in NYC
Just a day before his 65th birthday, Russian Ambassador to the United Nations Vitaly Churkin has died of an "apparent" heart attack
. Early reports say he passed out at his death at the Russian Mission to the UN in Manhattan. Churkin was rushed to the hospital where he could not be revived.
The Russian Foreign Minister confirmed Churkin "unexpected died" but provided no further details confirming exactly how he died.
Reprint of the Japanese version of Sputnik – February 21, 2017 –
Russian Ambassador to the UN dies suddenly in New York on 20
Russian Ambassador to the UN Vitaly Churkin
died

at the age of 64

, just a day before his 65th birthday, in New York on Monday.
"A prominent Russian diplomat has passed away while at work. We'd like to express our sincere condolences to Vitaly Churkin's family," Russian Ministry of Foreign Affairs said in a statement available on its official website.
Reprint from the Japanese version of Sputnik – February 20, 2017 –
Moscow accuses US of wiretapping Russian ambassador
Russian Foreign Minister Sergey Lavrov
said that

the American intelligence agency

has been wiretapping Russian Ambassador Sergey Kislyak in Washington.
"
In relation to the scandal that was built up regarding Flynn, who only worked as Trump's adviser for several weeks,

the US intelligence told

reporters absolutely

officially

, but anonymously, that, for example, the communications, as they put it,

of our ambassador Kislyak were being routinely wiretapped

, including his reports to Moscow on what he is doing in Washington, carrying out his duty," Lavrov said at a press conference.
According to the last report, former U.S. National security Advisor Flynn, who resigned on 13, told in a recent interview as the national security advisor that in conversation with the Russian ambassador to the U.S. "there were no lines crossed."