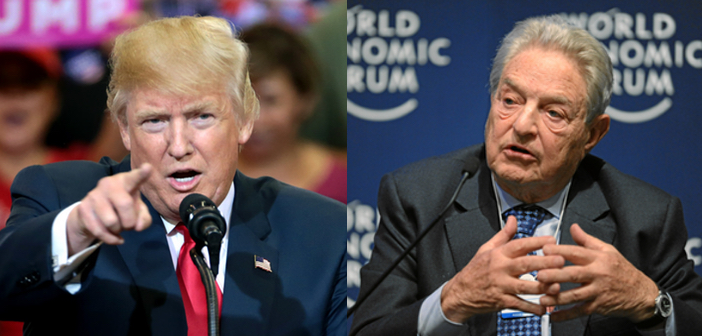 As shown in the news below, Hungary, George Soros' mother land, started to crack down on non-governmental organizations linked to Soros and the anti-Soros movement launched in Macedonia and has since swept across Europe. According to the article I introduced before, formal petition for arrest of George Soros was filed at the White House. At that time I commented: "It might be President Putin's idea." According to the second article, "Trump is going to charge Soros as a "threat to national security" in the United States" and he had requested Putin to provide any and all information related to Soros. Reading these articles, I think I am not wrong.
Since it is obvious that George Soros overthrew the Ukraine government through illegal intervention, we have to arrest him and put him into prison. I wonder if Rothschild would be the next target.
According to Fulford report, the Rothschild family is incorporated into China. The Panama Papers apparently targeted at not only President Putin but Mr. Xi Jinping. I suppose that they should have had a plot to cause various riots in China and divide China into some countries. Mr. Xi Jinping should know it. It is uncertain whether he would accept the role as Gorbachev did. My opinion is that Mr. Xi Jinping would eliminate Rothschild.
Shanti-phula has indicated some parts of the following text in black boldface type or in red letters.
Millions of Europeans rise up against George Soros
Millions of Europeans across the continent are taking part in huge protests against
billionaire elitist

George Soros, in a clear message that Europe is rejecting his globalist agenda

.
The initiative
called Stop Operation Soros (SOS)

launched in the Balkan nation of Macedonia earlier in January,

and has since swept across Europe

as citizens reject the pro-globalist agenda

implemented by the Open Society Foundation.
And Macedonia isn't the first country that's turned against Soros.

Earlier this month, Hungary's Prime Minister Viktor Orban announced that the Hungarian government would begin cracking down on any organizations linked to Soros

.
Trump
finally had enough and

is going to charge Soros as a "threat to national security" in the United States.

Considering that this is the same man that has mobilized and paid protesters to create a tremendous amount of damage, it's been a long time coming for this order..
Trump had placed a call to Russia to ask about "any and all" files that are related to Soros.
Hungary
, which is George Soros' mother country and an EU member nation,

plans to crack down on non-governmental organizations linked to billionaire George Soros.
Szilard Nemeth, a vice president of the ruling Fidesz party led by Prime Minister Orban, told reporters on 10: "

Hungary will use 'all the tools at its disposal' to 'sweep out' NGOs

funded by the Soros Groups."
Lawmakers will start debating a bill to let authorities audit NGO executives, according to parliament's legislative agenda.