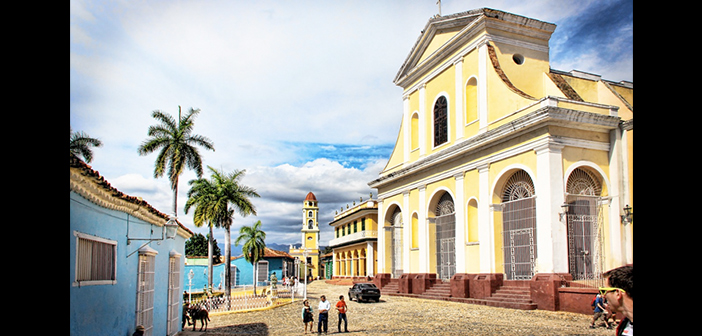 In many cases, people criticize Cuba for the reason of poverty as a country. However, a little thought shows that an economic blockade has been imposed on Cuba by the U.S. for many years. There are no starving people in Cuba, while in North Korea, which has also suffered economic blockade, there are many starving people. The second article below says that Cuba has no beggars. According to the article, in Cuba people are proud of themselves, yield to none, and live a poor life with dignity.
There are so many traitors who sell their souls for money and sell their own people. However, Cuba has persisted in the spirit of independence to the last because they believe that freedom is the most important. Their poverty is based on such spirit.
Even Russia led by Putin has plunged into crisis due to U.S.-led economic sanctions but has barely escaped from the crisis in solidarity with China. Judging from Russian case, we can see how difficult situation Cuba, who had lost assistance due to economic blockade and collapse of Soviet Union, has been in. Cuba is a splendid country which has no people who have died of starvation and provides free national education and medical service.
From this point of view, I think that one of the most miserable countries in the world is Japan.
Shanti-phula has indicated some parts of the following text in black boldface type or in red letters.
Excerpt from the Japanese version of Russia NOW – November 27, 2016 –
"I've come to liberate Cuba."
On November 26, former President of the Council of State Fidel Castro, who caused the Cuban Revolution and led the anti-American socialist government, died at the age of 90.
<snip>

Russian President Putin called Castro as the "symbol of an era in modern world history". He also expressed his condolences to the people and government of Cuba by saying "Castro has managed to build a free and independent Cuba that became an influential member of the international community and served as an inspiration for many countries and peoples."

(The rest is omitted)
Reprint from the Japanese version of Sputnik – November 27, 2-16 –
Expert says Cuba will continue policy even after Mr. Fidel Castro's death.
Although the leader of the Cuban Revolution Fidel Castro died, the country will continue domestic affairs policies, the historian, Evgeny Astanof, a professor at Moscow State institute of International Relations and Russian International Affairs Council member, says to RIA Novosti.
Mr. Fidel Castro died aged 90 on Friday at 22:29 hours (on Saturday at 6:29 local time in Moscow).
"Revolution as armed struggle has long gone. I think that revolution in the sense of improvement of people's life will continue. In spite of normalized relations with the U.S., the aim of revolution still remains," Mr. Astanof says.
According to him, living standard in Cuba remains very low.
"

Cuba

aims at treating humans as humans in spiritual life. The country

has no beggars

. In our case, the country was filled with beggars, while

in Cuba people are proud of themselves, yield to none, and live a poor life with dignity.

Cuba has the best medical science at least on cancer and has splendid biotechnology.

In many aspects, they serve as a model of progress and life to us.

"
"

Revolution

will continue not in the sense of barricade or "maidan" but

in the sense of spirituality

.

We rarely see such Cuban people that have pride and sovereignty.

However, changes or reformation will continue and people who call for reform line will appear. However, the country will not become a country which depends on the dollar system and a reformation will be conducted toward improvement of people's life," he says.
— Hal Tasaki (@Hal_Tasaki) 2016年11月26日
(I've found out an interesting posting and I'll try to translate it into Japanese.)
Castro: I will not die until America is destroyed
Trump: I'm gonna be the president
=Hal Tasaki (@Hal_Tasaki) November 26, 2016
Distributed by YouTube – March 29, 2015 –