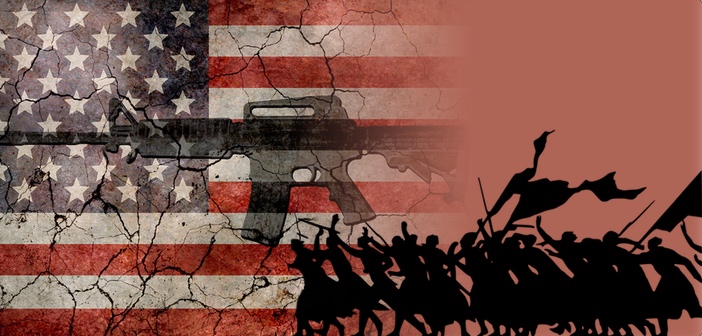 It seems that many American people are ready to rise up, depending on results of the presidential election. According to the article below, former congressman Joe Walsh suggested: "If Trump loses, I'm grabbing my musket." Hillary Clinton's fraud is now widely known among the people. She and the elite who endorse her are desperate never to give up power by all means. This has become known to many Americans. If fair elections are held, Mr. Trump must achieve an overwhelming victory.
However, as many people predict, the presidential election will be undoubtedly rigged. The fact will be revealed because the U.S. forces monitor the election. If so, it seems that a civil war will start, as Mr. Fulford mentions.
According to the article, a drill by FEMA/ DHS/Military is scheduled to take place during a period of time before and after the presidential. It is likely that 80 percent of the military and more than 10 percent of FEMA and DHS will side with the people. I have an intuition that the people will win a war of independence. I feel that time is closing.
Shanti-phula has indicated some parts of the following text in black boldface type or in red letters.
Former congress man Joe Walsh, now a conservative radio host, suggested he would pick up a musket if Trump loses the election.
His heated rhetoric is a response to the endless episodes of fraud, dirty trick and foul play by the Hillary campaign, as it seems that she will stop at nothing to become the first female POTUS –

just the sort of abuse of power that the founders warned about.
1775-76 erupted in response to a long train of abuses – acts of oppression and hostility listed in the Declaration of Independence
that is being largely repeated in modern day America.
Could Hillary's reported election victory – or Donald Trump's defeat –

signal civil unrest and a new wave of resistance

, particularly if the results are widely viewed as fraudulent or "rigged"?
According to an unnamed source,

an unannounced military drill is scheduled to take place

during a period of leading up to the election and throughout the month after.
Sources said exercise involves

FEMA/DHS/Military.
The UK and Spain have experienced economic recoveries since they have
kicked the globalists out of leadership.
The UK economy has been recovering even three months after it chose to leave EU.
Spain hasn't had a government in over 300 days.
As a result, ironically, it has experienced economic recovery
.
When we Americans also get rid of these globalists and are able to get back the U.S.,
our economy would be recovered.
The results of this election will produce a significant effect on us.