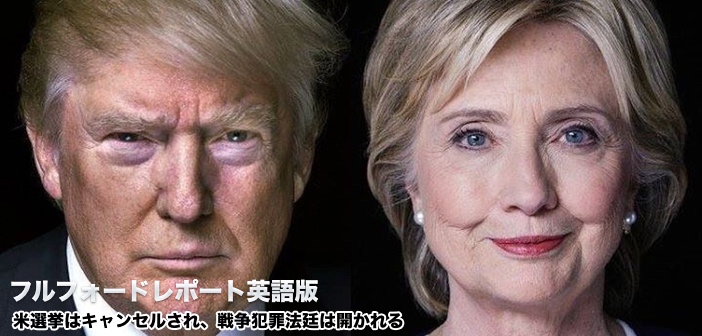 The following is quite interesting information. However, reading the report, I think that the report includes presumably incorrect information from various sources. The part indicated in red letters is comparatively correct information. However, things will not always go according to this scenario, because the faction Mr. Fulford got contact with anticipates such situation to occur or induces it to occur, but another faction moves with another intention.
I find the word of "systematic 'cabal terminations" interesting. In the past comment I conveyed that "secret societies have been ordered to disband." This article shows that it was the fact. Actually, the Illuminati in Japan seem to have been disbanded. I think that the Illuminati all over the world will be disbanded within this year.
"The Khazarian attempts to avert their downfall by starting World War 3 are getting more desperate and futile by the day," according to the report. I agree with the report. Forces which try to prolong confusion on the earth have been thoroughly removed behind the scenes now. Although I cannot tell you the details about it for now, I might explain about it somewhere sometime.
Shanti-phula has indicated some parts of the following text in black boldface type or in red letters.
Excerpt from a Japanese article: HowSad! – October 11, 2016 –
Fulford Report (October 10)
US elections to be cancelled and war crimes tribunals to be held Pentagon and CIA sources say
The US Presidential election
due for November 8th

will be cancelled and instead there will be war crimes tribunals held

, sources in both the Pentagon and the CIA say. The excuse for cancelling the election will be the resignation of one of the presidential candiates, the CIA sources say.
Here is the raw intel from the CIA:
"There is now a 90% probability that the elections will be postponed."
I asked
my contact in DC

why? His answer was:
"You can't have an election with one candidate"
I asked him which one will be removed. His reply was:
"I am not allowed to tell you, let's just say that Obama will make the announcement very soon."
The Pentagon sources, for their part, say "

The 911 law

will push

Saudi Arabia

to expose

Israel, Bandar bin Sultan and

the Bush cabal

behind 911 and

will lead to a real truth commission and a war crimes tribunal

."
In any case,

the data dump of over one million documents revealing the extensive crimes of the Clinton Foundation make it clear there is a powerful faction within the military industrial complex that is fighting to overthrow the Khazarian mafia.

That is because such a data dump cannot be carried out by individual hackers and requires a governmental organization with access to high level computer systems.
(Bush/Clinton/Rockefeller/Rothschild etc.) are in battle against white hats in the military and the agencies.
Bill Clinton, who is close to death from HIV, recently issued a death threat against this writer and Neil Keenan. The signs are that Neil Keenan has already been murdered. Although he used contact this writer regularly on Skype, the current person pretending to be Neil Keenan on Skype is unable to answer a simple question that only the real Neil would know the answer too.
Revenge for Keenan's death will be comprehensive and thorough, White Dragon Society sources promise.
Furthermore, if this writer is killed, you can be sure the entire 13 ruling bloodlines will be wiped out going back 5 generations to the founding of the Federal Reserve Board.



http://wakingtimesmedia.com/13-families-rule-world-shadow-forces-behind-nwo/
In any case, the

Bush/Clinton/Rockefeller

branch of the Khazarian mafia is now desperate for money. The recent Hurricane Mathew scam (the hurricane only existed in Khazarian mafia controlled media, not in the real world) was carried out do that the Khazarian mafia could make some money by short selling stocks in insurance companies, CIA sources say.
Pentagon sources say that the end of the Chinese National Day Golden Week holiday and the end of the October 3-9th World Bank and IMF annual meeting,

together with ongoing, systematic "cabal terminations," should propel big moves towards the new financial system starting this week.

It is also worth noting that the upcoming October 16th full moon is known as the "Hunter's moon," and it is open season on murderous Khazarian gangsters, the sources say.
Another source Japanese right wing source says North Korean strongman Kim Jong Un has also been killed. CIA sources in Asia confirm this and say "Kim Jong Un has been replaced with a double, who is now under our control. The original went way off the reservation and had to be removed."
Other sources, meanwhile, provided evidence to this writer that Philippine President Rodrigo Duterte is a Bush agent.
Furthermore, a known agent of Korea's Unification Church approached me to try to arrange a meeting between myself and Duterte shortly after he became president. I was probably wise to turn down this is proposal because I like having my legs attached to my body. As is well known, the Unification Church has a ranch in Paraguay next to the Bush ranch and has been involved in drugs and weapons smuggling with the Bush Nazi faction for decades. It is also a fact that using extra-judicial murder squads, as Duterte is doing, is typical behavior of the Nazi fascist Khazarian faction.
In other words, Duterte's anti-American public stance may just be a Bush scam aimed at fooling the Asians and getting access to the hoards of gold allegedly existing in the Philippines.
Abe is a known Bush/Nazi agent and will be forced to resign soon because the Japanese fascist group behind him has been decimated,
a
ccording to Japanese right wing sources close to the Emperor. The same sources say Bank of Japan Governor Haruhiko Kuroda has also lost a lot of influence recently since it is now known his real job was to loot Japanese savings.
The Khazarian attempts to avert their downfall by starting World War 3 are getting more desperate and futile by the day.
Their most recent gambit has been to try to provoke India and Pakistan into starting a war by shooting at both sides in an attempt to get their military forces to shoot at each other. They also managed to scare Russia into holding a massive nuclear war drill involving 40 million people last week.
These plots are failing as are all their other attempts at triggering mass killings.
The autumn offensive continues and hopefully humanity will soon be free.