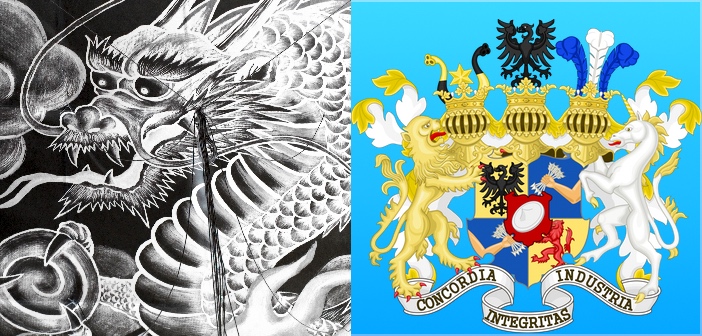 According to the article below, tax officers from the Tokyo Tax office burst into Mr. Fulford's home and "all the money in his bank accounts has been seized." I think that the information that the Rothschilds try to hire a killer to kill Mr. Fulford is true. It means that the Rothschilds are now at war with the White Dragon Society. The Rothschilds showed inclination to compromise to agree to hold negotiations. However, it seems that they took such action in fear of being thrust from power.
I think that they have made a fatal mistake. If the Rothschilds have already sent a thug to kill Mr. Fulford, they are judged as criminal. It is highly likely that the Rothschilds cannot survive as a family because there is presumably no room for leniency.
Such thing is probably to be determined within 24 hours to come. It might be too late. They may have pushed a button to execute themselves. Anybody who deities ordered to execute cannot survive.
Since the Rothschilds have done so much to avoid World War 3, they have escaped from being punished for the past crimes, which, however, is approved on the condition that they will never commit crimes any longer. If they have already made a fatal mistake, they would never receive such leniency.
If all wrongdoings they have done in the past are revealed, they have no chance of survival as a family. And what is more, they have made an enemy of the White Dragon Family, which was likely to protect them. The White Dragon Society is essentially a group which operates under the spiritual guidance of Hotsuma deities. The group is, so to speak, the voice of god on the earth. Therefore, they can survive when acting against the will of deities.
Shanti-phula has indicated some parts of the following text in black boldface type or in red letters.
Excerpt from a Japanese article: How Sad! -Otober 25, 2016 –
Benjamin Fulford -- October 24th 2016
Mass arrests and extrajudicial killings going on as part of cabal takedown
There is serious fighting going on as 43 different national militaries begin a coordinated take-down of the Khazarian mafia, Pentagon sources say. Meanwhile,

a source in one of the families that owns the Federal Reserve Board says

that all fund "blockages

we are experiencing in the USA

are due to the Bush/Clinton & Rothchilds & Rockefeller crime families.

We were told that they issued a firm threat that the 'entire family' would be killed of ANYONE who releases or receives any of the RV, redemption bonds or currency exchanges funds."
The fight is also getting personal for this writer.

This morning 9 goons from the Tokyo Tax office burst into my home and began seizing property.

They work for Yuriko Koike, the Tokyo Governor and Khazarian mafia stooge who was fraudulently elected recently.

All the money in my bank accounts

, including that earned from this blog,

has also been seized.
Gangsters from both factions of the Yamaguchi Gumi yakuza syndicate have also informed me that Rothschild Japan agent Michael Greenberg is trying to hire hitmen to have me killed.
The reason for this is because

this blog has exposed

the Khazarian mafia's crimes, especially

their privately owned central bank fraud scheme

.
The battle is expected to intensify over the coming two weeks as the US Presidential election approaches.
In either case, the fact the US government is threatening to arrest Russian diplomats if they try to verify the upcoming election is free and fair is a clear indication the whole election campaign is a giant fraud.
Head of US Joint Chiefs of Staff General Joseph Dunford met with Korean and Japanese top military brass on October 14th and the military chiefs of 43 nations on October 17th to discuss "the final takedown of the cabal on all continents,"
Pentagon sources says. This is how Pentagon sources describe the situation.
Now that the Chinese Yuan is in the IMF's Special Drawing Rights (SDR) currency basket,
the next step will be to incorporate the Iran Rial as a part of the SDR and as currency for the Middle-East while the Zimbabwe Dollar will join the SDR as a currency for Africa,

the Pentagon sources say.
There are now moves afoot as well to take away the Khazarian mafia's control of the corporate media, especially in the United States. That is why AT&T is being allowed to buy Time Warner after Comcast was blocked from buying it, the Pentagon sources say.
Certainly the corporate media in the United States is now so degenerate and full of lies that new ownership, and anti-trust action, is definitely needed if people are to once again hear the truth on so-called mainstream media.
What is very clear though is that

the recent data dumps blamed on Wikileaks

are now appear

the real deal

but

they are not coming from either Assange or Wikileaks but instead from insiders at the NSA and the agencies.
In
Khazarian mafia occupied

Japan too,

a takedown is continuing.

One source close to Prime Minister Shinzo Abe said that

300 Khazarian mobsters in Japan have been rounded up and taken to a US military base.
Japanese rightwing sources
, for their part say that

Abe's Liberal Democratic Party is now "waving the surrender flag," and has given up resistance.

They say Tokyo Governor Koike is actually one of the good guys and that the raid on my house took place without her knowledge or consent.
On that front

the White Dragon Society has given Abe and his henchmen until October 31st to resign if they wish to avoid life-long prison sentences.