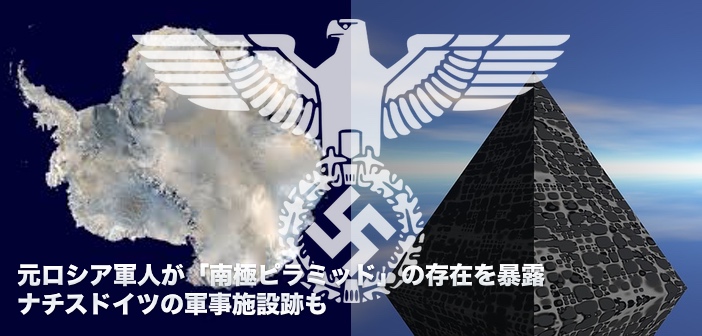 Regrettably, I can't understand what a person is talking about in the video below. According to Tocana, former officer in the Russian army, Eugene Gavrikov, says in the video that ancient pyramids and something like military facility of Nazi Germany remain preserved in Antarctic.
Mr. Corey Goode stated that Nazi Germany had a base in Antarctic much earlier and they went to the moon and Mars. This video verifies the fact. It seems that information disclosure is moving ahead.
Shanti-phula has indicated some parts of the following text in black boldface type or in red letters.
Distributed by YouTube – April 29, 2016 –
English translation of excerpt from a Japanese article: Tocana - October 7, 201 –
Former Russian army officer reveals the existence of "pyramids in Antarctic"! Global warming likely to cause them exposed on the surface of the earth
In an interview with Russian alternative news site "karamola.info,"

former officer of the Russian army Eugene Gavrikov

stated that ancient pyramids and dimension transfer system were hidden in Antarctic.

He also

revealed the fact that something like military facility of Nazi Germany remained preserved

.
It is certainly true that in 2012 there was an astounding news report on possible discovery of three pyramids in Antarctic by a team of American and Europe scientists.