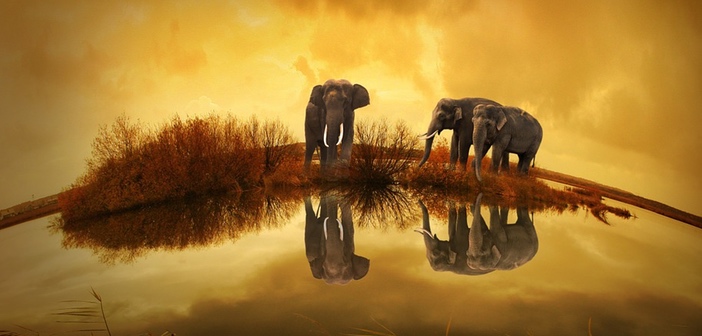 Dr. Paul Craig Roberts condemns the egoism of humanity as the true cause of the issue of disappearing animals He says: deluded Americans still regard themselves as the salt of the earth, the "exceptional people," the "indispensable people." If this delusion is incurable, humans will murder Earth.
I quite agree with him. That's because I think that the remnants of the Hierarchy, so-called Warriors of Light, Light workers they call themselves bear a heavier responsibility than such Americans. I always mention on this blog that they are equally deceived as "deluded Americans." Although they believe that they are righteous people who fight against Reptilians, Draconians and the Cabal, they are mere part of the Darkness in the eyes of deities. They are the same as Americans who are part of evil and unconditionally accept the U.S. government policy of military intervention to other countries.
Let me speak specifically. Recently channeling information on pole shift has appeared intensively. All of those who took part in crimes caused mainly by the remnants of the Hierarchy have been destroyed. However, those involved in crimes had believed that

it was the will of the Source to kill most of humans on Earth by causing pole shift. As a matter of fact, the source they call is the late destroyed Central Sun goddess (whose physical body stayed intact). The eight stellar deities led by her played a central role in the conspiracy. All of them have been destroyed together with the whole physical body.
The remnants of the Hierarchy who got involved in the conspiracy took part in crimes, believing without a doubt that the message from fake Central Sun goddess was from the true source without knowing Misakitakakinoboru-himemiko has assumed the position of Central Sun goddess. It goes without saying that Grace Kelly, who used to be a Heavenly Empress, took part in such wrongdoing.
As mentioned above, such bad guys have taken part in crimes for tens of thousands or hundreds of thousands of year but they don't realize it. Crisis will never disappear from Earth for a while unless such people awaken. Regrettably, among those who are comparatively good and have not awakened are Cobra, Corey Goode and David Wilcock.
Shanti-phula has indicated some parts of the following text in black boldface type or in red letters.
Will Human Evil Destroy Life on Earth?
The World Wildlife Fund tells us that there are only 3,890 tigers left in the entire world. Due to exploitative capitalism, which destroys the environment in behalf of short-term profits, the habitat for tigers is rapidly disappearing.
The same is happening to lions, cheetahs, leopards, rhinos, elephants, bobcats, wolves, bears, birds, butterflies, honey bees. You name it.
What we are witnessing is the irresponsibility of the human race, a Satan-cursed form of life that does not belong on the beautiful planet Earth.
The Guardian, a UK newspaper, reports that

in 2014 20,000 African Elephants were killed by poachers

. Tanzania and Mozambeque have lost over half of their elephant populations with the same devastation of elephants across east and central Africa.
Faced with the extermination of elephants, what did the corrupt European Union do? The EU refused a ban on Ivory trade!
What we are left with is a "western civilization" that is no longer a civilization but an existential threat to all life on Earth.
Obama has announced a one trillion dollar US nuclear modernization program.
http://billmoyers.com/story/the-trillion-dollar-question-the-media-have-neglected-to-ask-presidential-candidates/
This huge sum, spent for death, could instead be spent for life. It is enough money to fund many large and well protected wildlife preserves around the world.
The evil represented by nuclear weapons is inconsistent with the continued existence of life on Earth. Washington, crazed by desire for hegemony over others, is recklessly courting war between nuclear powers
. Only Putin among world leaders warns that Washington is setting an unpromising course for everyone.
Yet regardless of all fact, deluded Americans still regard themselves as the salt of the earth, the "exceptional people," the "indispensable people." If this delusion is incurable, humans will murder Earth.